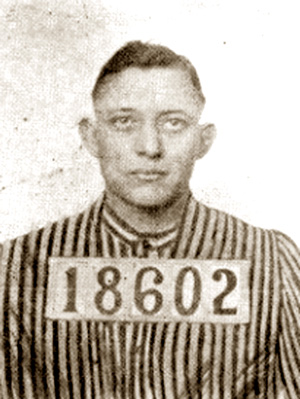 By Wayne Erbsen
July 10th isn't a day to watch the fireworks, have a picnic, wave a flag, or sing The Star Spangled Banner. Nope. July 10th is the anniversary of the day in 1931 that the famed outlaw Otto Wood made his tenth and final escape from Central Prison in Raleigh, North Carolina.
Central Prison was not a place to have a tea party on the lawn. Completed at a cost of $1.25 million in December, 1884, it was the first prison built in North Carolina. They say it took inmates 14 years to construct the original castle-like structure, which was built with granite quarried just outside the prison's east wall. To this day, the prison is located west of downtown Raleigh on 29 acres of land. Most of the land is enclosed by a double wire fence with razor ribbon on top. It's not the place they send you for an overdue library fine.
The life of Otto Wood was the stuff dime novels are made of. Born in Wilkes County, North Carolina, on May 9, 1894, Wood ran away from home as just seven years of age. After stealing rides aboard freight trains, he lived for a time in West Virginia with relatives who were none other than the infamous Hatfield clan — the same clan that was engaged in deadly feuds with their sworn enemies, the McCoys. From the Hatfields, Wood learned the life skills that would soon become his stock and trade: moonshining, gambling, and shooting.
By the time Wood was 13, he had committed his first crime — stealing a bicycle, which he hadn't even learned to ride yet. While a teenager, Wood lost his left hand either in a hunting accident, or while working on the railroad in West Virginia (accounts differ). He was also plagued with a birth defect that resulted in a club foot. When he was finally shot down at the age of 37 in a running gun battle with the sheriff of Salisbury, North Carolina, Wood had become the most notorious outlaw North Carolina had ever known. His exploits included having made no less than 10 escapes from prison. He was wanted in several states for car and horse theft, moonshining, and murder.
Otto Wood was a man you didn't mess with. Once on the lam in the Southwestern desert, he fought off a pack of hungry wolves and then captured a gang of Mexican outlaws who made the mistake of trying to rob him. Wood turned the surprised thieves over to the law, but didn't stick around long enough to claim the reward for fear of being recognized and sent back to prison. His most notorious crime was the November 3, 1923, murder of A.W. Kaplan, a Greensboro, North Carolina, pawnbroker. They apparently quarreled when Wood discovered that the store had sold his father's pocket watch, which he had pawned.
Not over a month after Wood met his final end after the fated shoot-out with police, Walter "Kid" Smith and the Carolina Buddies wrote and recorded "Otto Wood the Bandit" on January 1, 1931. You can hear it on YouTube.
Otto Wood
By the Carolina Buddies
Step up buddy and listen to my song,
I'll sing it to you right, but you might sing it wrong.
It's all about a man named Otto Wood,
I can't tell you all, but I wish I could.
He walked in a pawnshop a rainy day,
And with clerk he had a quarrel they say.
He pulled out a gun and he struck him fatal blow
And this is the way the story goes
They spread the news as fast as they could,
The sheriff served a warrant on Otto Wood.
The jury said murder in the second degree,
Then judge passed sentence to the penitentiary.
Otto, why didn't you run
Otto's done dead and gone
Otto, why didn't you run
When the sheriff pulled out his .44 gun.
They put him in the pen, but it done no good,
It couldn't hold a man called Otto Wood.
It wasn't very long 'til he slipped outside,
Pulled a gun on a guard said "Take me for a ride."
The second time they caught him was away out West,
In a holdup gang he got shot through the breast,
They brought him back and when he got well,
They locked him down in the dungeon cell.
He was a man who would not run,
He always carried a .44 gun.
He loved the women and he hated the law,
And he just wouldn't take nobody's jaw.
Otto, why didn't you run
Otto's done dead and gone
Otto, why didn't you run
When the sheriff pulled out his .44 gun
He rambled out West, and he rambled all around,
He met two sheriffs in a Southern town.
The sheriff said "Otto step to the way,
'Cause I've been expecting you every day."
He pulled out his gun and then he said,
"Make a crooked move and you'll both fall dead.
Crank up your car and take me out of town,"
But a few minutes later, he was graveyard bound.
Otto, why didn't you run
Otto's done dead and gone
Otto, why didn't you run
When the sheriff pulled out his .44 gun.
********
Wayne Erbsen is a native Californian who has made his home in western North Carolina since 1972. A musician and teacher, Wayne has written and published over thirty bluegrass music instruction books and songbooks for banjo, mandolin, fiddle, and guitar, as well as historical and folklore books and songbooks.