NEW – We are now offering online music and cooking classes! To find out what we've got coming up, you can check our Crowdcast page at crowdcast.io/nativeground. You can also follow us on Crowdcast. See below for links to recordings of past classes we have taught.
Once it's safe to do so, we will once again offer in-person music and cooking classes at our Log Cabin Cooking & Music Center in Asheville, North Carolina.  When in-person classes are scheduled, you can find out about them in our newsletter and here.  If you have questions about classes, contact us.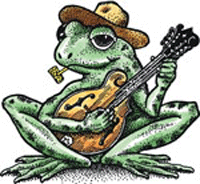 People are whispering that "Wayne Erbsen can even teach a FROG to play music!"
Log Cabin Music Classes
We offer classes and lessons for total beginners in bluegrass banjo, clawhammer banjo, fiddle, mandolin, and guitar. These first-timer classes are taught by Wayne Erbsen, who has been teaching for over forty years and has written more than two dozen music instruction books, as well as songbooks and folklore books.  
Frequently Asked Questions about Log Cabin Music Classes
Past Virtual Music Classes (yes, you can still view them!):
Tuning Tips with Wayne and Annie Erbsen
Log Cabin Cooking Classes
We offer cooking classes taught by Barbara Swell, author of more than a dozen cookbooks such as The Lost Art of Pie-making. You can read more about Barbara's classes here.
Past Virtual Cooking Classes (yes, you can still view them!):