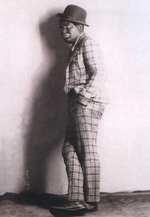 By Wayne Erbsen
It was Saturday night, June 11, 1949, when 25-year-old Hank Williams walked onto the stage of the Grand Ole Opry for the first time and began singing Lovesick Blues. The audience was electrified. No other performer had ever been brought back to the stage of the Grand Ole Opry for six encores, as Williams was that night. With his debut of Lovesick Blues, a triumphant Hank Williams basked in the glow of his newfound fame. Meanwhile, Emmett Miller, who first recorded Lovesick Blues, sat at home, completely forgotten and down on his luck.
Turning back to the mid-twenties, when Hank Williams was only a toddler, it was Emmett Miller who was riding high. His career as a blackface vaudeville star was going nowhere but up. Stopping in Asheville, North Carolina, Miller played to capacity crowds at the Majestic Theater on the corner of College and Market Streets. On September 1, 1925, Miller participated in Okeh Records' first field recordings at the newly-constructed Vanderbilt Hotel in downtown Asheville. Among the songs he recorded that day was Lovesick Blues.
Although Lovesick Blues was a career-changing song first for Emmett Miller, and then for Hank Williams, neither of these powerful musicians wrote the song. Instead, credit for this 1922 composition goes to Irving Mills (lyrics) and Cliff Friend (music). Both Mills and Friend were key players in the New York City songwriting-publishing industry known as Tin Pan Alley. Along with his brother Jack, Mills built a publishing company that would be the envy of the entire music world. Their publishing empire was a key factor in promoting the careers of such recording artists as Hoagy Carmichael, Cab Calloway, Duke Ellington, Jack Teagarden, and Benny Goodwin.
These are the lyrics of Lovesick Blues as sung by Emmett Miller on September 1, 1925:
Well, I'm in love, I'm in love with a beautiful gal
That's what's the matter with me
I'm in love, I'm in love with a beautiful gal
But she don't care about me
To make her love me I tried
Lord, I was sad and I cried
But she just refused
And ever since my mama's gone away,
I've got them lovesick blues
I got a feelin' called the blues since my mama said goodbye
It seems I don't know what to do, all I do is sit and cry, oh Lord
That last long day we spent alone
I'm yearning for again
It thrills me, fills me, with a kind of lovin'
I never will forget
The way she called me sweet daddy
Was just a beautiful dream
I hate to think it's all over
I've lost my heart it seems, oh Lord!
I got so used to her somehow
I'm nobody's cracker papa now, it's awful when you're lonesome
You got them lovesick blues, oh Lord!
******
Wayne Erbsen has been teaching banjo, fiddle, guitar, and mandolin since dinosaurs roamed the earth (really, about 50 years). Originally from California, he now makes his home in Asheville, North Carolina. He has written 30 songbooks and instruction books for banjo, fiddle, guitar, and mandolin.