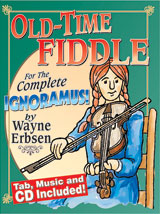 Among the many stringed instruments, the fiddle or violin has long been revered but also feared. Somewhere along the line, it got the reputation of being the most difficult instrument to play. Let's look this question right in the eye and answer it right here and now, once and for all.
What do I say when someone says that the fiddle is the most difficult instrument to learn? "Hogwash."
A more detailed answer would go like this. "It depends on several things."
 Talent. Some people have more natural ability to learn musical instruments more than others. However, after teaching people to play for over fifty years, I still feel that determination is more important than natural talent. In fact, if I had to choose between having talent vs having drive, I'd pick drive every time. People with talent sometimes don't appreciate their gift and often squander it. On the other hand, people with drive tend to succeed at whatever they're working on, be it the fiddle, or pinochle. If you've got the will to learn to play the fiddle, and the drive and determination to focus and apply yourself, I have no doubt you'll be successful.
Confidence. To me, self-confidence is one of the key factors in determining whether a person can play a fiddle or a xylophone.
Instruction. Your success at learning to play the fiddle will have a lot to do with your learning style. If you can match the way you learn with the proper materials or people, you'll be in business!
Different Ways of Learning to Play the Fiddle:
YouTube: There's a ton of free videos on YouTube which teach everything from cutting down a tree, baking a cake and playing the fiddle. If you search long enough, you may find someone you can learn things from.  I even have some  instructional videos up on YouTube… check them out HERE.
Private Instructor: For many people, taking private fiddle lessons is the way to go. Your local music store is probably a good place to try to find an instructor. Of course, you'll need to decide if your preference is to learn classical violin or if you're more interested in Celtic, old-time, or bluegrass fiddle styles.  Group classes are also a good way to go if you want to save some money. If you are in the Asheville area, feel free to check out my group classes.
Playing by music or ear. Classical violinists always use standard musical notation. Fiddlers often shun written music and prefer to play strictly by ear. Depending on your learning style, you'll need to discuss this with your fiddle instructor.
Books. If want a more structured way of learning but don't want to pay a teacher, you can certainly teach yourself to play the fiddle from a book.  There must be a ton of fiddle instruction books out there, and there is probably some good material in them. However, the only book that I really know anything about is one I wrote, Old-Time Fiddle for the Complete Ignoramus!, available on our website as a paperback or downloadable PDF, and now on Amazon Kindle as well. If you already know your way around the fiddle but need help taking the next step, check out my other fiddle book, Bluegrass Jamming on Fiddle.
Let me tell you what my 'Ignoramus' book consists of:
 Friendly, informal, funny writing style
 Simple, clear, straightforward instruction
 Large font size to make reading the book easier
  Simple, great-sounding arrangements of 37 old-time tunes
  Vintage photographs of old fiddlers
 Standard musical notation plus a unique easy tab system
 Tips on everything from tuning, to patting your foot to improvising
 A CD that plays the 37 tunes slow and fast
Going it alone. It's quite possible for you to learn to play the fiddle without books, internet, instruction, outside help, but I wouldn't advise it. A good instructor or book can set you on the right path without getting into a lot of bad habits.
Any way you look at it, the fiddle is a fun instrument to play, so I expect you can be a fine fiddler, without hardly breaking a sweat.