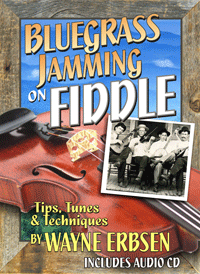 Columbus Stockade Blues
Way down in Columbus, Georgia,
Want to be back in Tennessee.
Way down in Columbus stockade,
My friends have turned their back on me.
Chorus:
Go and leave me if you wish to,
Never let me cross your mind.
In your heart you love another,
Leave me darling I don't mind.
Many a night with you I've rambled,
Many an hour I've spent with you.
Thought I'd gained your heart forever,
Though you have proved false to me. (Chorus)
Last night while I lay sleeping,
I dreamed I held you in my arms.
When I awoke I was mistaken,
I was peeping through the bars. (Chorus)
Instruction on how to play this song can be found in Wayne Erbsen's books: Bluegrass Jamming on Fiddle, Bluegrass Jamming on Mandolin and Bluegrass Jamming on Banjo.