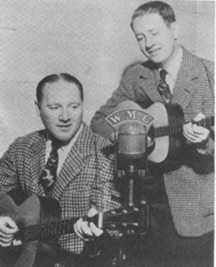 "There was a big crowd there and everything was decorated and all fixed up like the president of the United States would be there. It was by far the biggest and most important contest in the entire country. People who had never been to a contest before gathered with the contestants at the Old Athens (Alabama) Agricultural School. My mother had made (guitar) cases for us out of cotton sacks we used during the picking season and we had our names on them spelled out in full. I painted them on the cases with pokeberry juice.
"You know how it feels to be a combatant in any kind of contest so we rightly felt proud of the sack cases and we were primed to go for the first in the prizes in each case. I entered the contest for the best guitarist and we also entered the contest for the best band. There were some bands there that would have given Bob Wills some strong competition if Bob had been there. We didn't think we would win that one. By then we had 'Brown's Ferry Blues' down pretty pat-in fact we could play it then just as good as we ever did.
"When it came our time to play we sang just as soft as we could and just as loud as we could but we put the music in there, too -and that counts as much as anything I can think of to help put an act over. You can analyze music and record hits, I mean the legitimate ones, and you will find that there is a synchronization between the voice or voices and the instrumentation.
"We got tied for the first place with three pretty girls. Nothing worse could have happened because we knew the crowd usually takes sides with the singer if it happens to be a girl and those three girls could really sing. The rules were that they were to play two songs and two for us. The girls went out first, and I could tell they had lost something of their quality on their very first song. Their second one was not any better but they still got a tremendous hand from the audience. I knew we had something to beat. Rabon did, too, but it just made us work harder. We could feel the challenge in the air.
"For our first number we used the old song 'Columbus Stockade Blues.' It was written by Tom Darby and Jimmie Tarltor It is a plaintive prison and love song combined  and when we got through singing men threw their hats into the top of the house and everybody screamed like the had really never before. We thought had it won then and we did but we still had the 'Brown's Ferry Blues' for them and when we did it the people really went wild and we won that contest without any question or any doubt. And that started us on our way to the Grand Ole Opry and the big record companies. Incidentally, I also won the first place for guitar playing with an instrumental rendition of 'St. Louis Blues.' Our names came out in the paper and it was really swell. Of all the days of triumph in my life, there were none any greater than those."
Alton Delmore, in his autobiography Truth Is Stranger Than Publicity (copyright 1977 by the Country Music Foundation Press, Nashville, TN) points to this February, 1930 triumph at a down-home fiddlers convention in northern Alabama as a great crossroads for himself and his younger brother Rabon. Competing as the Delmore Brothers, they had been bringing home the ham, horse harnesses, or whatever the prizes happened to be at local contests for three or four years by then. But their success at the big contest in Athens was encouragement enough to send them, guitars, cotton sacks, pokeberry juice, and all down the road to becoming the first professional country music duet and one of the most innovative, influential, and enduring acts in country music history.
Born the eighth and tenth children of tenant farmers, Alton on Christmas day, 1908, and Rabon on December 3, 1916, the Delmores grew up on various red dirt farms across Limestone County, Alabama, just south of the Tennessee line. Raised on hard work, hard times, and southern values, the Delmores spent what little spare time they had enjoying the wealth of string-band music and gospel singing that came with that particular territory. Many family members played musical instruments, and everybody sang. One close relative, Uncle Will, was also a hymn writer and music teacher. He taught Alton to sing and read shape notes, and inspired him to try his hand at writing songs. By the time Alton was thirteen years old, he had published his first original song, a gospel number he co-wrote with his mother entitled "Bound For the Shore." (Alton later went on to write over 1000 songs in his lifetime!)
While recuperating from a childhood illness, Alton had the chance to spend many hours listening to music on phonograph records and, like so many others, he fell under the influence of Jimmie Rodgers. Also inspired by the guitar styles of Riley Puckett, Carson Robison, Nick Lucas, and Eddie Lang, Alton taught himself to play. Incorporating the music theory he had learned from his Uncle Will, together with the already established styles of his musical heroes, Alton developed a sophisticated and unique approach to the guitar. He utilized the entire fingerboard to create adventurous chord positions, and emphasized a strong sense of drive and melody in his lead playing. He also taught himself to play banjo, mandolin, fiddle, and-inspired by a traveling vaudeville show-the tenor guitar.
Brother Rabon, eight years younger than Alton, was already learning fiddle and guitar when Alton brought home the small, strange, four-stringed instrument. Tuned like a tenor banjo, but softer and sweeter sounding, the tenor guitar proved to be a natural instrument for Rabon. Not yet ten years old, he adapted well to the size of the instrument and, with his big brother to coach him, he soon became proficient at playing both melodies and imaginative back-up chords and rhythms.
Armed with this unusual combination of 6-string and tenor guitars, and blessed with a soft and subtle vocal blend, the Delmore Brothers took it public for the first time at a rural high school fiddlers convention in 1926. Alton was 18 years old, Rabon was 10, and the competition was stiff. With no amplification the two young boys were virtually drowned out by the reveling festival-goers for the first half of their first song. But as they sang and played, a quiet came over the crowd, the way it does when someone important is speaking. By the time they had finished their second song the crowd roared its approval, they won second prize, and the Delmore Brothers act had been born.
Many high schools and fiddlers conventions followed, leading up to the big contest at Athens in 1930. Buoyed by this success and some advice and encouragement from Victor and Columbia recording artists, the Allen Brothers, Alton and Rabon arranged a November, 1931 audition in Atlanta for Columbia Records. During this visit, they met several famous artists from Columbia's roster including Riley Puckett, Clayton McMichen, and Fiddlin' John Carson, whose acceptance and appreciation of the Delmores' talent gave them much-needed self confidence.
As they stood in the studio to sing, they were bewildered by what Alton thought looked like a little can on the end of a pole.
Not knowing that this "little can" was a microphone, Alton and Rabon sang two original songs into it-"Alabama Lullabye" and "Got the Kansas City Blues." The whole experience seemed unreal to them at the time. Not knowing whether this was a dream or a nightmare, they were brought in to listen to the test pressing, hearing themselves recorded for the very first time. According to Alton, "We sounded. . . much better than our real selves, we thought. There was something divine in that little can, as it looked to us, that helped us immensely and changed us from two country farm boy singers to something 'uptown' and acceptable to listeners who bought records and listened to the radio programs. That was the whole secret of our good luck. Our voices took well to the microphone."
The flip side of their luck was that Columbia soon went (temporarily) out of business and the Delmore Brothers' initial release sold only 500 copies. Barely missing a beat, however, they used this recording to promote themselves, and in 1932 were invited to Nashville's WSM radio to audition for the Grand Ole Opry. Although they got off on a bad foot by arriving a day late and embarrassed themselves further by starting their audition with an unimpressive cover version of an overdone Opry song, Opry manager Harry Stone was keenly interested in their supply of original material. They were hired by the Opry in April, 1932. This combination of awkwardness and success apparent in their Opry audition foreshadowed the love/hate relationship which the Delmore Brothers and the Grand Ole Opry experienced throughout their association from 1932 through 1938.
Alton Delmore's autobiography fills in these years with colorful detail, describing their quick rise in popularity with Opry audiences and their continued butting of heads with Opry management. Meager and frustrating as it may have been, the Delmore Brothers had now achieved their goal of making a living as professional entertainers. To sustain this, they kept up a hectic pace. They played several radio shows over WSM during the week, travelled to as many road dates as possible with such people as Uncle Dave Macon, Fiddlin' Arthur Smith, DeFord Bailey, and Roy Acuff, while always making it back to Nashville in time for the Saturday night Opry show.
Just as importantly, during these years the Delmores began recording for Victor on their Bluebird label, waxing over 80 sides and establishing themselves as the most successful recording artists on the Opry at that time. Their first session for Bluebird in 1933 included some of the duo's most enduring numbers including "Brown's Ferry Blues," "Gonna Lay Down My Old Guitar," "Blue Railroad Train" (their tribute to Jimmie Rodgers), and "Big River Blues." In addition to their intricate harmonies, stellar guitar work, and songwriting, Victor's A & R man, Eli Oberstein was struck by their lonesome two-part yodeling. A unique twist on Jimmie Rodgers' now-popular vocal signature, the Delmores' pliable harmonies gave the yodel a fresh twist and added another dimension to their inimitable style.
"Divinely innocent," as Alton described himself and his brother, the Delmores were a welcome addition to the Nashville musical community, but were often taken for a ride by unethical business people and occasionally fell victims to the lures and excesses of big city life. By 1938, they were ready for a change.
WPTF radio in Raleigh, North Carolina made them an offer, and together with their newly-formed string band and fast growing families, they packed their cars and headed east on route U.S. 70. The group stayed in Raleigh for a year, marking the first in a dizzying succession of radio stations and new "hometowns." Over the next dozen years, the Delmore Brothers were regular performers on at least 12 more radio stations and made personal appearances in 37 states. Ranging from Baltimore to Del Rio, Texas, they lived a nomadic lifestyle of radio shows, live programs, and long miles.
Alton's son, Lionel, born in 1940, grew up this way. From his earliest memories he was surrounded and inspired by his father's music. Earning the nickname "Tag-a-long, " Lionel was on stage singing at age four, and traveling to town after town as Alton booked and promoted show dates, leaned into microphones to sing with his brother, and wrote song after song. Since Rabon never learned to drive, Alton spent many hours behind the wheel. According to Lionel, this is where many Delmore Brothers songs were written-Alton would develop ideas while he was driving and call them out to Rabon who, after making a few adjustments, would write them down. This method of collaboration yielded many successful songs and doubtlessly helped to propel Lionel into a fruitful career as a songwriter; Lionel Delmore currently lives in Nashville and has had dozens of songs recorded, many of them by country singer, John Anderson, including the huge hit, "Swingin'."
Creatively, the Delmore Brothers seemed to thrive on the freedom of the open road. Not only did they continue to write great songs, but they developed as musicians and entertainers as well. Their show grew to include not only duet vocal numbers, but also comedy, gospel, and instrumental showpieces. Rabon became an excellent 6string jazz style guitarist and would impress audiences with his handling of pop tunes such as "Baby It's Cold Outside" and "Stormy Weather." Alton, having benefited from his earlier years with Fiddlin Arthur Smith, would play tunes like "Devil's Dream," "Fire On the Mountain," or "Hell Amongst the Yearlings" on the fiddle.
Moving to Decca Records in 1940, and then helping to found King Records in 1944, the Delmores continued to have an active and successful recording career. While on WLW radio in Cincinnati in 1945, Alton and Rabon formed a gospel quartet with talented (and soon to be famous) country musicians Merle Travis and Grandpa Jones. The quartet, called the Brown's Ferry Four, performed and recorded many of Alton's original gospel songs.
Moving to Memphis in 1947, the brothers found themselves in the middle of a history-making music scene. The birth of rock-a-billy was just over the horizon and the Delmores helped to lay the groundwork with some pioneering country-boogie recordings with harmonica player Wayne Raney, including "Freight Train Boogie." It was during this period that they wrote and recorded their most successful song and one of the first "crossover" hits in country music, "Blues, Stay Away From Me."
Despite this and other high water marks, the Delmore fortunes were notoriously inconsistent. In an excellent article by graduate student Lynn Pruett, appearing in Alabama Heritage magazine (summer 1987), she states: "On Thanksgiving Day 1951, 42year-old country singer and songwriter Alton Delmore sat down to dinner with his family in their small home in Houston, Texas. At Alton's direction, they bowed their heads and thanked the Lord for their meal of apples and mayonnaise. Two days later, seated at the same table, the Delmores played cards and listened to "The Hit Parade," the nation's top radio show. When the announcer named "Beautiful Brown Eyes" one of the hit songs of the week, Alton laid his cards on the table and wept. 'I've got the number eight song in the nation,' he said, 'and I can't feed my family a Thanksgiving dinner.'
"The popular success of 'Beautiful Brown Eyes' should have guaranteed many Thanksgiving dinners for its composer, but Alton, never an astute businessman, had lost all rights to the song. Someone else had claimed authorship, and Delmore, lacking the financial resources to fight a legal battle, settled out of court. By the time Rosemary Clooney, Jimmy Wakely, and Bing Crosby recorded the song, 'Beautiful Brown Eyes' was worth far more than the $1500 Alton had been paid.
"Although bad luck and hard times seemed to be the chorus that followed Alton and his brother Rabon throughout their joint musical career, the Delmore Brothers. . .profoundly influenced the country music of their day. The first professional country duet, they introduced the boogie beat to country music, set the standard of musicianship in the country music world, and contributed such mainstays to the country canon as 'Midnight Special,' 'Southern Moon,' 'Blues, Stay Away From Me,' 'Brown's Ferry Blues,' and 'There's a Page in the Bible.' But they never did strike it rich."
Rabon Delmore died of lung cancer one day past his thirty-sixth birthday on December 4, 1952.
Alton, shaken by this loss, the loss of his father, the death of his young daughter Susan, and his own heart attack all within a three-year period, lost his "starch," according to son, Lionel. Settling back in Huntsville, Alabama, Alton taught some guitar, did odd jobs, and devoted his creative energies to writing prose, first a series of fictional short stories, then the ambitious work of his autobiography, which is still in print and is highly recommended.
Alton died of heart failure on June 9, 1964. Since that time, much has been made of the Delmore Brothers and their accomplishments. They have been inducted into the Nashville Songwriters Hall of Fame, the Alabama Country Music Association Hall of Fame, and the Alabama Music Hall of Fame. Their songs continue to be performed and recorded by a wide array of artists ranging from Doc Watson, to Hank Williams Jr., to Mark Knopfler (of the English rock band Dire Straits), to k.d. lang (who recently recorded "Blues, Stay Away From Me" together with Kitty Wells, Brenda Lee, and Loretta Lynn).
The impact of the Delmore Brothers career is difficult to overestimate. Their smooth, intricate harmonies were strikingly different from the harder-edged mountain vocal styles which preceded them in country music, and had a profound effect on future "brother duets" such as the Blue Sky Boys, Louvin Brothers, Jim and Jesse, and the Everly Brothers. The country-boogie sound which they pioneered, its compelling rhythm and hot guitar solos, opened the door for the honky-tonk and rock-a-billy music of the 1950s which in turn charted the course of popular music for generations to come. Their legacy of over 200 major-label recordings and 1,000 original songs are still in active use today, 40 years after Alton and Rabon played their last note together. During their long and tenacious careers they taught the world of country music many things, among them; how to use vocal microphones to good advantage; how to use sophisticated and unusual chords in country songs; and how to combine the benefits of radio, recording, and live performance to create a profession in country music.
Old-time, bluegrass, folk, country, and rock-a-billy artists all owe a debt to these remarkably eclectic, broad-minded, and creative gentlemen who helped expand the definition of country music for millions of listeners.
Currently, no comprehensive re-issues of the Delmore Brothers' recordings are in print in the U.S. Three songs, "I've Got the Big River Blues," "Blow Yo' Whistle Freight Train,' and "The Nashville Blues" by the Delmores appear on the RCA Heritage Series CD Great Country Brother Teams o f the 1930's (RCA CD 8417-2-R). In Germany, Bear Family Records recently re-issued the Delmores' rock-a-billy sides with Wayne Raney on LP. Though technically out of print, many LP re-issues can still be found. Highly recommended is The Delmore Brothers: Early Original Recordings (County 402). Truth Is Stranger Than Publicity can be ordered through the Country Music Foundation, 4 Music Square East, Nashville, TN 37203
Thanks to Charles K. Wolfe, Lionel Delmore, Bill Harrison, Lynn Pruett, Dr. Jim Rouse, Ronnie Pugh, and the Country Music Foundation.
John Lilly is an old-time musician and songwriter, currently living in Charleston, West Virginia. He is the editor of the book, Mountains of Music: West Virginia Traditional Music From Goldenseal, published by the University of Illinois Press, and since 1997 has served as editor of Goldenseal magazine, a quarterly folklife journal published by the West Virginia Division of Culture and History. Contact john.f.lilly@wv.gov
THE OLD-TIME HERALD, August-October 1992, Volume 3, Number 5, p 8