New Guitar Book + 'Man of Constant Sorrow' Guitar Tab & Lyrics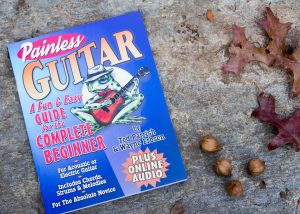 We are excited that Wayne's newest book is just back from the printer, Painless Guitar – A Fun & Easy Guide for the Complete Beginner. This 48 page  book is packed with 31 familiar folk, bluegrass, gospel and blues songs along with easy to read chord charts, simple tab and painless strumming… and it's only $9.95. Among the songs included in Painless Guitar is "Man of Constant Sorrow." The tab below should be easy to follow. The horizontal lines represent the strings, and the numbers on a line tells you what fret to play on that string. The little lines below each line of the tab are the beats you count. The chords are shown above each line. Try it. It's easy!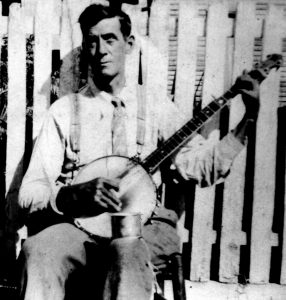 If you like a little background history on this song, I'll tell you that Kentucky-born, blind street singer Dick Burnett had every reason to compose "I Am a Man of Constant Sorrow." An orphan by the time he was twelve, Burnett was almost murdered in 1907 when he was robbed and shot in the face with a shotgun. Though he survived, Burnett was now a blind man. To earn a livelihood for his wife and child, he took to the streets with a banjo, a fiddle, and a tin cup tied to his leg. To add to his income, he produced little song books, which he later called "song ballets." In about 1913, he put out a little booklet entitled Songs Sung By R.D. Burnett—The Blind Man—Monticello, Kentucky. Among the four songs in this book was one called "Farewell Song," which he wrote in about 1912, and that we now know as "Man of Constant Sorrow." Burnett taught the song to his neighbor, Emry Arthur, who recorded it on January 1, 1928. According to George Shuffler, Ralph Stanley learned it from his father, who "got it in Kentucky."
You can purchase Painless Guitar – A Fun & Easy Guide for the Complete Beginner directly from us on our website, from Amazon (please remember to leave a review!), Mel Bay, or other retailers around the country.
The following tab and lyrics are an excerpt from the new book!
Man of Constant Sorrow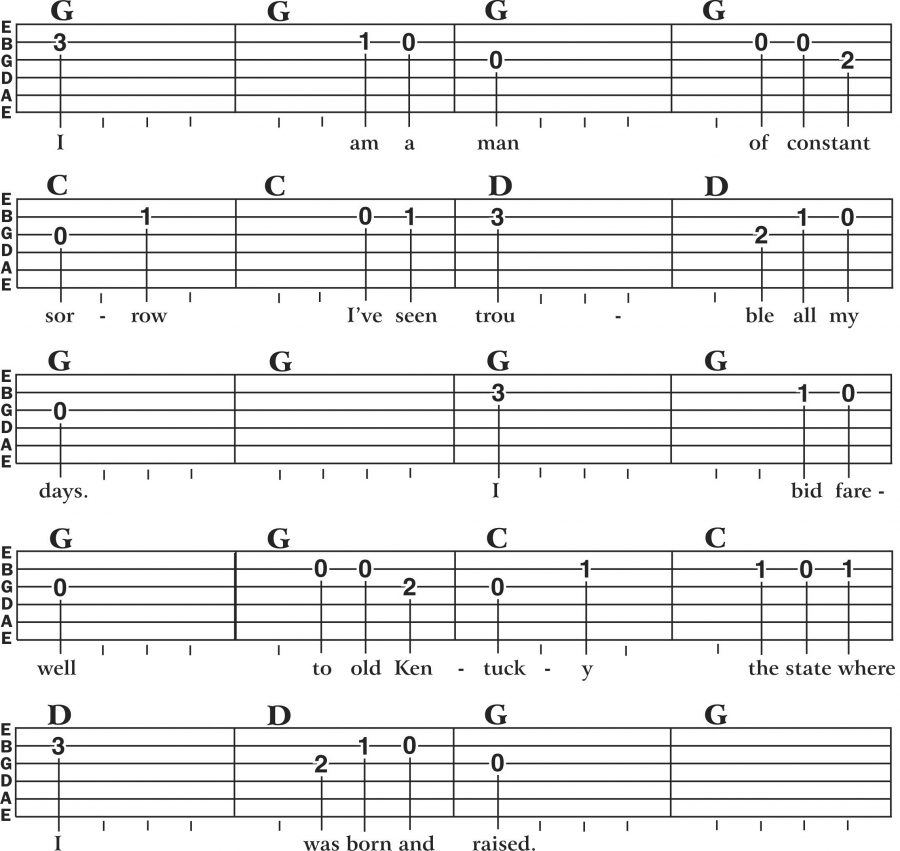 LYRICS:
I am a man of constant sorrow,
I've seen trouble all my days,
I bid farewell to old Kentucky,
The state where I was born and raised.
For six long years I've been in trouble,
No pleasure here on earth I've found,
For in this world I'm bound to ramble,
I have no friends to help me now.
You may bury me in some deep valley,
For many years where I may lay,
Then you may learn to love another,
While I am sleeping in my grave.
Maybe your friends think I'm just a stranger,
My face you'll never see no more,
But there is one promise that is given,
I'll meet you on God's golden shore.