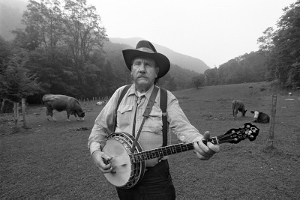 By Wayne Erbsen
Published in Bluegrass Unlimited in March 1982
They call him "The Old Man of the Mountains." At the spry age of 42, that makes Raymond Fairchild a rather youthful "old man." No matter. The mountains can age you before your time, and Raymond has lived far enough back in the Smoky Mountains to be several generations old by now. This man, who many consider to be the fastest and the best banjo player alive, lays a genuine claim to playing mountain music. He's lived it.
Born near Cherokee, North Carolina, to a Cherokee Indian mother and a father whose duties in the military kept him gone most of the time, Raymond Fairchild grew up in the hard times. Long back roads and winter snows kept Raymond from the one-room school house for most of the year. He did manage to finish the fourth grade, but has never completely mastered reading and writing.
There were other teachers for Raymond. His mother's people taught him the ways of the woods. Completely at home deep in the forest, Raymond, the mountain man, knows his way around. In the fall of the year he still goes hunting ginseng, which has a root that is highly valued for its legendary curing properties. Although some ginseng hunters in the mountains take their sack of "sang" to nearby Asheville, North Carolina, or Knoxville, Tennessee, to sell for more than $200 a pound, Raymond keeps all that he digs.
Drawing upon lore learned from his mother's people, he combines the ginseng along with eighteen other roots and herbs to produce a medicine which he takes daily as a tonic. Going far into the woods in search of ginseng and other roots, Raymond has been known to stay gone for nearly a month. After one such trip he told of killing more than one dozen deadly rattlesnakes. Besides bringing home a poke full of wild roots, he often returns from the mountains with a fat ground hog in his sack. Claiming that groundhog is the finest wild meat in the world, Raymond also renders the grease from the woodchuck to make a tonic for the croup. "Just a spoonful or two," he cautions.
Growing up near Cherokee, Raymond spent most of his early years working the family farm, doing odd jobs, and walking the trails in the woods alone. Occasionally on a Saturday night he would go over to his aunt's house to listen to a little old-time music. Being left-handed, Aunt Ballew played the 5-string banjo upside-down in a three-finger style. This was the first music Raymond ever listened to, and he did not forget the sounds he heard in his aunt's cabin. Sometimes, Aunt Ballew would be joined on guitar by Uncle France or Raymond's mother on the mouth harp. Banjos, Raymond remembers, were scarce back in those Smoky Mountains. Religious people thought the banjo was the work of the devil and would have nothing to do with it. Guitars, fiddles, and harmonicas were fine, but the banjo had a mark on it. "You were Hell-bound if you picked a banjo."
Raymond was just ornery enough to want to pick the banjo. Although he listened to Aunt Bellew play for years, Raymond was eighteen years old and nearly grown before he could afford one. His first banjo was fretless with a squirrel hide tacked over the hoop. He next ordered a Silvertone model from Sears and Roebuck. The banjo came with an instruction booklet but Raymond had always shied away from book learning. He was learning to play it his own way. His dad noticed his progress on the instrument and finally took the young man to Dunham's Music House in Asheville and bought him a Gibson RB-150 model. Along with the banjo, his dad bought him some picks, but it was some time before he realized that Raymond had been trying to play with the picks on backwards!
On one of the rare trips to Asheville, Raymond discovered jukeboxes. There's no telling how many hard-won quarters Raymond dropped in the slot to listen to Earl Scruggs play tunes like Flint Hill Special, Earl's Breakdown, or Randy Lynn Rag. Like many struggling banjo players in the early 1950s, Scruggs' playing set Raymond on fire. But unlike many who learned from Scruggs' records by sitting in front of the family record player, Raymond did not have the luxury of electricity, not to mention a record player. Even to this day, he does not own a record player.
By the time he was nearly fully grown, his family did purchase a battery-powered radio. Then Raymond could tune in to the Grand Ole Opry on Saturday night broadcasting from Nashville, or listen to the Stanley Brothers on Farm and Fun Time out of Bristol, Virginia. He also tuned in to pioneer banjo player Snuffy Jenkins with Pappy Sherrill and the Hired Hands over a station near Statesville, North Carolina. Except for this limited exposure to the professional banjo players he heard on radio, Raymond had to make his own way with his music. He had to "hold it in his head," as he has said. Besides his Aunt Ballew, there were scarcely any other banjo players around who could show Raymond how to play. But even though banjo players were rare in the mountains, there were plenty of good fiddlers to learn from. Raymond fondly remembers the fiddling of oldsters Carrol Massey and Robert Richards. These and other fiddlers gave Raymond contact with a large store of traditional mountain tunes from which he would later draw in making his own music.
Unlike most banjo players, Raymond has always had a deep feeling for the blues. To some, however, the banjo seemed unsuited to playing the blues. But that's before they have heard Raymond. Many years ago as a boy of ten he would often see the black convicts in stripes work on the road crews under the watchful eye of an armed guard. Raymond would often creep up to where they were having their dinner break and listen while they sang the blues. The lonesome sound of their singing made a strong impression on the young man, and this influence would weave a deep thread in his music.
Occasionally, Raymond would get to see some of the professional banjo players in person on their show dates in school houses and tiny auditoriums in western North Carolina. He was especially impressed with Wade Mainer from nearby Weaverville, North Carolina, who he called "the real McCoy." He also sat in rapt attention to the music of Bill Monroe, who he often heard on the radio. It wasn't until some time later that he realized that the banjo player he was listening to in Monroe's band over the radio was actually a string of different players who played with Monroe at various times. He does recall that Rudy Lyle was one of his favorites.
Even though Raymond did get to hear some of the professional banjo players in person and on the "piccolos," the name Raymond calls jukeboxes, he stubbornly refused to copy anybody else's playing. Even as a beginner, he was determined to go his own way. But he does admit that "a lot of it came from not getting to hear nobody. You'd hear parts of a tune, and that's as much of it as you'd get. You'd have to pick out the rest of it in your mind. My style is just something I came up with, something I had to do. If I had a record player and had people to show me, I'd probably have done just like anybody else. But I always listen to all kinds of music. Chet Atkins, the Delmore Brothers…I do yet. You don't know where you get it from. If you see a young kid who only knows two tunes on the banjer, don't ever walk by him because you're liable to pick up something that nobody else can show you."
It was during the middle 1960s that Raymond first attempted to take his music to the public. By this time he had moved from Cherokee to Maggie Valley, North Carolina and had found a receptive audience at "The Hillbilly Campground," located in Maggie. For over twelve years Raymond played for tips next to the road that ran in front of the campground. He was often joined by Roy Mull on guitar, Frank Buchannan (who had earlier recorded with Bill Monroe) on guitar and mandolin, the late Wilford Messer on fiddle, and Buck Duncan on bass. According to Raymond, they'd play on the corner and really pull the cars in. Raymond remembers playing seven days a week in front of the campground from eight in the morning until midnight.
Trying to raise a family with three kids, Raymond also worked as a stonemason to supplement the money he made playing for tips. He hired on as a helper to James Worley, but soon they became partners, doing contract work around Maggie. In addition to being an expert stonemason, Worley was somewhat of a musician himself, and had a harmonica rack bolted to his autoharp to enable him to blow the french harp and strum the autoharp at the same time.
It was during this period that Raymond was approached by Uncle Jim O'Neal to record for Rural Rhythm records. The result was a string of albums produced over the next several years including Mama Likes Bluegrass Music (RRFM 159), Smoky Mountain Banjo (RR 46), Raymond Fairchild and The Maggie Valley Boys" (RRMVB 170), and Honky Tonkin' Country Blues (RRRF 245). These records were a long ways from Raymond's mountain music background, or even bluegrass. Included on several of these recordings were drums, saxophone, and steel guitar. Raymond seemed willing to experiment with sounds and styles that few others had ever attempted on the banjo.
As Raymond's style on the banjo became more inventive, his reputation as a unique individual and musician started to spread. By 1972 he had totally and forever quit the bottle, which once had quite a hold on him. Things were looking up for Raymond. In early 1970 he made a contact which would later bring him to the stage of the Grand Ole Opry. Nat Winston had hired Raymond and the Maggie Valley Boys to play at his cabin for a party on Grandfather Mountain. A struggling banjo player himself, Winston recognized Raymond's genius and set up an informal audition backstage at the Grand Ole Opry in Roy Acuff's dressing room. While Loretta Lynn and Ernest Tubb were entertaining the Opry audience with Sweet Thing, Raymond was playing the daylights out of Whoa Mule and Orange Blossom Special to the slack jaws of the crowd that Raymond gathered.
The assembled group included such dignitaries as Roy Acuff, Bill Monroe, Archie Campbell, Bill Carlisle, and Billy Grammer. Hal Durham, manager of the Opry, who was also listening in, asked Raymond to appear as a guest at the Opry, and Archie Campbell approached Raymond about appearing on Hee Haw.  For Raymond, playing the Opry was the break he needed. As he put it, "When you step in front of those WSM microphones on the Grand 0le Opry, that's the highest you're going in this type of music, buddy." Raymond's first appearance at the Opry literally drove the audience wild. Even though he stands motionless when he plays and never smiles, sings, or talks on stage, his playing makes him, in the words of Roy Acuff, "the best showman I've seen." In addition to having the distinction of being the first banjo player since Earl Scruggs to bring down the house at the Grand Ole Opry, he is also the first known musician to walk out in front of the WSM microphones with a loaded .38 revolver in his pocket. Raymond explains that "there's a lot of meanness in this world."
Although playing the Grand Ole Opry does symbolize success to country and bluegrass musicians, the real success — or failure — happens at the end of the long drives down those same old roads, when the artist stands in front of his audience. Here is where the real stuff of country music lives. Raymond can tell you that things haven't always come easy for the musicians who drive the roads and face the crowds night after night. "If you're out there playing a show, you've got to play from the heart. You've got to feel it; you've got to live it. A lot of people sing, but they have their mind on something else while they're singing. You can tell by the sound of it where it's coming from. The people who've made bluegrass music what it is today, buddy, they've lived it. Back when bluegrass first started, you know they couldn't have been making much money doin' it. But they wouldn't change; they wouldn't quit.
"Just the other night I done a show with Don Reno in Blue Ridge, Georgia. Man, he was so sick. Most of these young musicians who claim to like bluegrass would have been at home in bed with somebody rubbing their chest with Vicks salve. But Don Reno was up there doing his show. Any minute it looked like it was going to be his last breath. Now, I ain't kidding. He told me he had something like bronchitis and felt like he was smothering. He'd talk a while and then take a deep breath. That's love. That's what's helped bluegrass music out, people like that. Bill Monroe's traveled the roads many, many times and didn't always make money. So did Ralph and Carter Stanley. Ralph has told me many times they'd have to play a show before they could eat. I've seen Ralph and Carter come into Spruce Pine, North Carolina, back in the 1950s and play for eight or ten people. They were playing on a percentage basis and people were paying thirty or forty cents to get in, so you can figure out how much they made. It was the love of it that kept 'em going. I love it.
"There's some great young musicians, but they don't understand what the hard life is. If it boiled down to the hard times again, they'd be quittin'. They wouldn't have the backbone to stand up. They don't love it well enough where they'd hang with it and play for nothing. Them fellers played for years and years and never made nothing — Bill Monroe, Reno and Smiley, Mac Wiseman, Ralph and Carter, the Goins Brothers. That's who we can thank now. They're the ones who handed it down on a silver platter. It was fellers back then that held 'er together."
For Raymond, one of the hardest things has been finding musicians who had the sound he was looking for. "A lot of people will tell you the woods is full of guitar pickers. The woods is full of frammers, not guitar players. You can name rhythm guitar players on your right hand. What I like to hear is straight solid pickin'. I've been into it for twenty-five years and with all honesty, I'll have to say I've had one, the one I've got now — Wallace Crowe. He's the best rhythm picker I've ever heard in my life. The bass player too, Wayne Crowe, he's the best bass man I've ever heard.
"It don't take a stage full to play music. You take three men and all of them pushing time, and it sounds right. A lot people tell me to pick one with drive. They think you have to be playing fast to have drive. But the Tennessee Waltz has drive if the timing's right. Time is drive. Drive is time. You can drive a waltz just the same as when you're burning one up, if everbody's there. Listen to Bill Monroe's Kentucky Waltz or Jimmy Martin's Widow Maker and you'll hear drive. That's one thing a lot of 'ems got to learn. I've played with a lot of fellers who had time, but didn't know the melody. And I've played with fellers who knew the melody, but didn't have time. I've always known in my mind what I wanted but I never found it until I run up on the Crowe brothers. That was in 1975. When I met them, I knew I'd found what I'd been looking for."
"I never did try to get hired by any of the professional bands. I knew if I did try to play with any of those guys I'd have to change my style. I never did want to change what I started. When you go to pick with a man like Bill Monroe, you've got to pick the Monroe sound. I could have changed, but I didn't want to leave my work behind. I knew someday I'd put it out, my way. You can't do that working as a sideman for somebody else. You know, I've played for years with these fellers and they wanted to do all Bill Monroe, or all Jimmy Martin, or all somebody else. You can't get nothin' going doin' that. You can play your head off playing like somebody else, but that ain't going to do you no good. Them fellers are great, they're the ones who made it, but you can't get on stage in front of them at a festival and do their stuff. That's what's a matter with bluegrass. They claim they love it, but they don't love it enough to sit down and learn some new songs or new chords. Bluegrass musicians are the laziest people on earth. They want to play something they can use one chord, or something somebody else already has out. You've got to take the old stuff and make it your own way."
Making his own way for Raymond meant breaking new ground on the banjo. He had made banjo showcases out of tunes that have seldom been featured on the banjo, such as Yakety Sax and Steel Guitar Rag. And when Raymond plays his version of Orange Blossom Special, you can see the steam rise off the engine, smell the smoke pour out of the stack, and feel the ground shake as the train pulls out of sight. And like that train, Raymond Fairchild is going places. Besides making frequent appearances on the Grand Ole Opry, he is being considered to do the music sound track for a major Hollywood movie. His new record on Marc Pruett's Skyline label is getting the exposure it deserves. Named after his youngest boy, Little Zane, the record features Raymond's unique banjo style along with Wallace and Wayne Crowe, plus Mike Hunter on mandolin, Steve Sutton on lead guitar, and Tim Galyean on drums.
Although the summer festivals take Raymond far from his home in the Smoky Mountains, in the winter he stays close to Maggie Valley, where he plays at The Stompin' Ground. If you don't find him there, you can guess that Raymond's gone off in the woods hunting ginseng, groundhog, or solitude.