If you're wanting to learn the basic guitar chords, you've come to the right place. Although there's thousands of chord positions, I'm only going to show you the basic chords to need to start with. In certain kinds of music, such as as bluegrass, Appalachian, folk, gospel, country and blues, these chords are pretty much all you'll ever need.
Important Tip: When you're making your chords, it's ESSENTIAL that you go to the chord all-at-once, not one finger at a time. Landing on the chord all-at-once will guarantee that you'll be able to make your chords quickly and efficiently.
Here's how you learn to play your guitar chords all-at-once. Go to a chord (like a D, for example) any way you can. Pick up all of your fingers off the chord about a half an inch, while still keeping your fingers in the shape of the chord. Then POUNCE on the D chord all-at-once. Do this excerise every day on all the chords, and you'll soon have it nailed.
Here is a chart of the guitar chords. The numbers underneath each chord are the bass notes you hit before you strum the entire chord.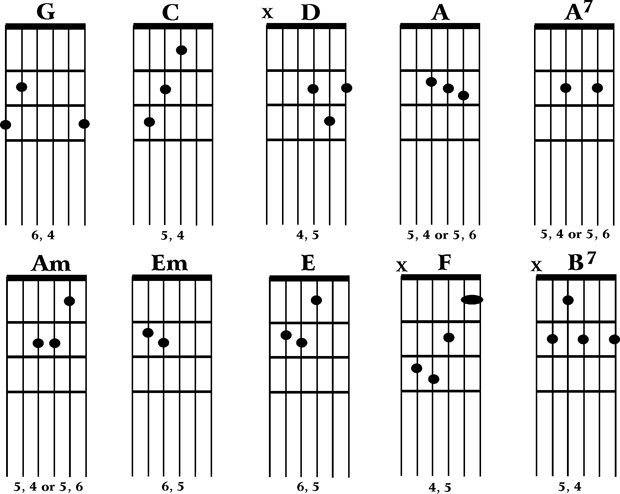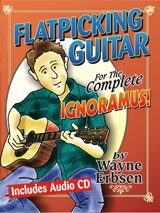 Check out my article on Tuning a Guitar.
If you're a novice, a beginner, or even a more advanced guitar player, I highly recommend my newest book, Flatpicking Guitar for the Complete Ignoramus! Here's what you'll learn from this fun book: How to Tune, How to Hold Your Pick, How to Do the Rest Stroke, How to Play Solid Rhythm, How to Play Back-Up Chords to 30 Old-Time Fiddle Tunes, How to Understand Painless Music Theory, How to Improvise, How to Fight the Fear of Scales and How to Play by Ear.
You'll learn to pick these tunes: Amazing Grace, Angelina Baker, Arkansas Traveler, Bill Monroe's Shady Grove, Boogie Woogie, Bury Me Beneath the Willow, Cluck Old Hen, Cotton-Eyed Joe, Cuckoo, Darling Corey, Deer Lake Polka, Don't Let Your Deal Go Down, Down the Road, Flatpicker's Blues, Goin' Across the Sea, House of the Rising Sun, In the Pines, Keep on the Sunny Side of Life, Little Maggie, Little Rosewood Casket, Little Sadie, Little Willie, Man of Constant Sorrow, Muley's Daughter, On Top of Old Smoky, Poor Wayfaring Stranger, Rain and Snow, Red River Valley, Shady Grove, Shortenin' Bread, Soldier's Joy, Swannanoa Tunnel, Tater Patch, Train 45, Where the Soul Never Dies, Whiskey Before Breakfast, Wild Bill Jones, Wildwood Flower, Will the Circle Be Unbroken?