Are you looking for Music Classes or Cooking Classes?
(Hint, click on the one you want to jump to that part of the page.)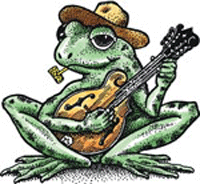 People are whispering that "Wayne Erbsen can even teach a FROG to play music!"
Log Cabin Music Classes
Classes and lessons for total beginners in bluegrass banjo, clawhammer banjo, fiddle, mandolin, and guitar are offered at the Log Cabin Music Center in Asheville, North Carolina. These first-timer classes are taught by Wayne Erbsen, who has been teaching for over forty years, and has authored 28 books on playing various musical instruments. Wayne hosts the"Country Roots" radio program from 7:00 -9:00 PM on Sunday evenings on Asheville's Public Radio WCQS. Listen live at 88.1 FM or stream live at http://www.wcqs.org.
Log Cabin Cooking Classes
Event Information:
Holiday Gifts from a Vintage Kitchen

5:30-8:30 p.m.

By the time we posted the farmhouse cheese-making class, it was nearly full. So if you missed it, don't despair … we're doing it again …. sort of. For this class, we'll be making fromage blanc, a local cow's milk cheese that can be enjoyed with fresh herbs, nuts, or other adornments or aged a bit until it's sliceable. Garlic salts make a fabulous gift packaged in tiny class jars. The problem with these is that come February, your friends will have used up their salts and you'll have to make them more! We'll make herbed Tuscan garlic salt and a spicy garlic/local ginger/chili pepper salt.  A couple of winter jams (orange/cranberry/walnut  as well as a red onion jam) and beautiful mulling spice packets and you're ready for anything.  And of course, we can't work on an empty stomach …mulled wine made from our homemade mulling spice packets, a hearty soup and crackers with our fresh cheese will join the party. This class will be held in Barbara's 1880's Haw Creek home.  $50, limited to 10 people.
Class Registration
Directions:  Log Cabin Cooking & Music is located at 111 Bell Road, just off New Haw Creek Road in the Haw Creek section of East Asheville. From Highway 240 in Asheville, take exit #7. From 240 going east, turn left at the light at the off-ramp. From 240 going West, turn right at the light at the off-ramp. Now you're on Tunnel Road going east. At the very first light, turn left and then take a sudden right on New Haw Creek Road. Go about 1½ miles. On your right you'll see a baseball field. Turn right onto Bell Road, at the beginning of the ball field. Pass Evergreen Charter School on your left, then pass Ozark Springs Road on your right. Then you'll come to our big garden on your right. Slow down. On your left will be Zander Way. You'll turn right on the driveway opposite Zander Way at two big black mailboxes. As you come up our gravel driveway, the cabin will be on your left. You can park either in front of in back of the cabin. If you park in back, come in the back right door.