Are you looking for Music Classes or Cooking Classes?
(Hint, click on the one you want to jump to that part of the page)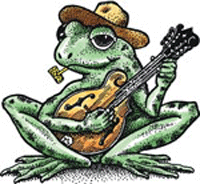 People are whispering that "Wayne Erbsen can even teach a FROG to play music!"
Log Cabin Music Classes
Classes and lessons for total beginners in bluegrass banjo, clawhammer banjo, fiddle, mandolin and guitar are being offered at the Log Cabin Music Center in Asheville, North Carolina. These first-timer classes are taught by Wayne Erbsen, who has been teaching for over forty years, and has authored 28 books on playing various musical instruments. Wayne  is host of Asheville's Public Radio WCQS "Country Roots" radio program on Sunday evenings at 88.1 FM from 7:00 -9:00 PM. Listen live on the web on Sunday nights http://www.wcqs.org
Click here for Frequently Asked Questions
Event Information:
Log Cabin Band Class

Thusdays, 7:30-9:30 pm

Calling all Advanced Beginners & Intermediate Fiddle, Banjo, Guitar and Mandolin Players!

The Log Cabin Band is actively recruiting new members to join us on Thursday nights from 7:30-9:30 PM at a rustic log cabin here in Asheville, North Carolina.

The Log Cabin Band is a combination of a class, a jam and a band. Led by Wayne Erbsen, every week we learn a new bluegrass or old-time song or tune, and then we play or jam on a dozen or more tunes from our growing repertoire. If you already have your feet wet, but are not quite ready to fly, come check out the Log Cabin Band. This fun group of people will welcome you with open arms.

The classes are organized in 6-week chunks that continue all year. So far, the group has been going over 12 years. The fee for 6 weeks is $120 or $20 per session. If you come to try it out and it's not your cup of tea, it's FREE. Please get in touch with Wayne Erbsen at (828) 299-7031 for more information.
Log Cabin Cooking Classes
Class Registration
Directions:  Log Cabin Cooking & Music is located at 111 Bell Road, just off New Haw Creek Road in the Haw Creek section of East Asheville. From Highway 240 in Asheville, take exit #7. From 240 going East, turn left at the light at the off-ramp.. From 240 going West, turn right at the light at the off-ramp. Now you're on Tunnel Road going east. At the very first light, turn left and then take a sudden right on New Haw Creek Road. Go about 1½ miles. On your right you'll see a baseball field. Turn right at the beginning of the ball field on Bell Road. Pass Evergreen Charter School on your left, then pass Ozark Springs Road on your right. Then you'll come to our big garden on your right. Slow down. On your left will be Zander Way. You'll turn right on the driveway opposite Zander Way at two big black mailboxes. As you come up our gravel driveway, the cabin will be on your left. You can park either in front of in back of the cabin. If you park in back, come in the back right door.