Are you looking for Music Classes or Cooking Classes?
(Hint, click on the one you want to jump to that part of the page.)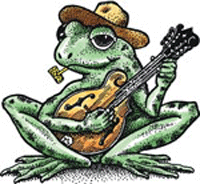 People are whispering that "Wayne Erbsen can even teach a FROG to play music!"
Log Cabin Music Classes
Classes and lessons for total beginners in bluegrass banjo, clawhammer banjo, fiddle, mandolin, and guitar are offered at the Log Cabin Music Center in Asheville, North Carolina. These first-timer classes are taught by Wayne Erbsen, who has been teaching for over forty years, and has authored 28 books on playing various musical instruments. Wayne hosts the"Country Roots" radio program from 7:00 -9:00 PM on Sunday evenings on Asheville's Public Radio WCQS. Listen live at 88.1 FM or stream live at http://www.wcqs.org.
Log Cabin Cooking Classes
5:30-8:30 p.m.

Learn about gluten free pie baking & how to make a gluten free pie crust that is every bit as tender and flaky as the 'regular' sort!  We will cover flour blends, techniques for mixing and rolling out gluten free crusts, how to adapt recipes to be gluten free, and how to safely bake for celiac/super gluten sensitive when you don't have a dedicated gluten free kitchen.  With our fabulous crusts we will make both savory (pumpkin/leek and sausage/kale) sweet hand pies (apple and blackberry).  Price includes a snack, wine, & ingredients. Please bring your own mixing bowl.

5:30-8:30 p.m.

111 Bell Rd, Asheville NC 28805

Go ahead and claim pie as your Thanksgiving feast contribution and we'll turn you into a pie queen/king just in the nick of time. We'll start off by crafting super flaky butter crusts for our heirloom pumpkin pies and  boozy apple dumpling pies (sweetened with apple cider caramel). Barbara will make crusts from local Carolina Ground pastry flour and Annie will share how she makes her amazing Gluten-Free pie crusts. Class starts with a glass of wine and a festive healthy appetizer followed by pie making and pie eating. Bring your appetite 'cause it's pie for dinner! A copy of Barbara's Lost Art of Pie Making is included and each participant will take home their own 6 inch pie as well as dough to make a 9-inch pie. Email us to register today!
Class Registration
Directions:  Log Cabin Cooking & Music is located at 111 Bell Road, just off New Haw Creek Road in the Haw Creek section of East Asheville. From Highway 240 in Asheville, take exit #7. From 240 going east, turn left at the light at the off-ramp. From 240 going West, turn right at the light at the off-ramp. Now you're on Tunnel Road going east. At the very first light, turn left and then take a sudden right on New Haw Creek Road. Go about 1½ miles. On your right you'll see a baseball field. Turn right onto Bell Road, at the beginning of the ball field. Pass Evergreen Charter School on your left, then pass Ozark Springs Road on your right. Then you'll come to our big garden on your right. Slow down. On your left will be Zander Way. You'll turn right on the driveway opposite Zander Way at two big black mailboxes. As you come up our gravel driveway, the cabin will be on your left. You can park either in front of in back of the cabin. If you park in back, come in the back right door.