Are you looking for Music Classes or Cooking Classes?
(Hint, click on the one you want to jump to that part of the page.)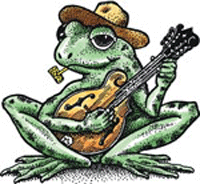 People are whispering that "Wayne Erbsen can even teach a FROG to play music!"
Log Cabin Music Classes
Classes and lessons for total beginners in bluegrass banjo, clawhammer banjo, fiddle, mandolin, and guitar are offered at the Log Cabin Music Center in Asheville, North Carolina. These first-timer classes are taught by Wayne Erbsen, who has been teaching for over forty years, and has authored 28 books on playing various musical instruments. Wayne hosts the"Country Roots" radio program from 7:00 -9:00 PM on Sunday evenings on Asheville's Public Radio WCQS. Listen live at 88.1 FM or stream live at http://www.wcqs.org.
Log Cabin Cooking Classes
5:30 pm

There are two kinds of pickled that I can think of and one's just as good as the other, so let's just do both! To start, we'll create southern mountain end-of-garden chow-chow and crunchy, 5-day fermented sauerkraut. We'll make fixins to go with like seasonal greens, local heirloom cornmeal dumplings and 4 varieties of southern field peas slow simmered with smoky Benton's bacon from over in Knoxville. For dessert, it's boozy roasted peach ice cream with summer berries. You'll each make a bottle of peach brandy liqueur to take home … ready to warm your innards when the cold weather arrives. As always, we will share our meal under the stars by lantern light. Read more about southern peas in my blog post here.
To register: contact barbara.swell@gmail.com

5:30-8:30 p.m.

Get your picnic basket ready for a movable feast filled summer! We'll pick fresh produce from the cabin garden to create an easy and festive forest banquet on a portable tin can rocket stove.  
Instructor: Barbara Swell

5-8 pm

111 Bell Rd, Asheville NC 28805

 Learn to cook a seasonal meal on a vintage wood-fired cookstove! We will make stone ground polenta, 'fagioli al fiasco', sausages simmered in a red wine sauce, grilled fall greens, and a candy roaster pumpkin pie, accompanied by robust mountain wines. Limited space available, class will be gluten free.  Taught by mother & daughter team Barbara Swell and Annie Erbsen De Bacco. $45. 

5:30-8:30 p.m.

Learn to make homemade artisan cheeses using local cow's milk.  We'll make fresh mozzarella, ricotta, & fromage blanc, followed by a wine & cheese tasting paired with seasonal jams and veggies.  $50, Instructor: Annie Erbsen De Bacco 

5:30-8:30 p.m.

By the time we posted the farmhouse cheese-making class, it was nearly full. So if you missed it, don't despair … we're doing it again …. sort of. For this class, we'll be making fromage blanc, a local cow's milk cheese that can be enjoyed with fresh herbs, nuts, or other adornments or aged a bit until it's sliceable. Garlic salts make a fabulous gift packaged in tiny class jars. The problem with these is that come February, your friends will have used up their salts and you'll have to make them more! We'll make herbed Tuscan garlic salt and a spicy garlic/local ginger/chili pepper salt.  A couple of winter jams (orange/cranberry/walnut  as well as a red onion jam) and beautiful mulling spice packets and you're ready for anything.  And of course, we can't work on an empty stomach …mulled wine made from our homemade mulling spice packets, a hearty soup and crackers with our fresh cheese will join the party. This class will be held in Barbara's 1880's Haw Creek home.  $50, limited to 10 people.
Class Registration
Directions:  Log Cabin Cooking & Music is located at 111 Bell Road, just off New Haw Creek Road in the Haw Creek section of East Asheville. From Highway 240 in Asheville, take exit #7. From 240 going east, turn left at the light at the off-ramp. From 240 going West, turn right at the light at the off-ramp. Now you're on Tunnel Road going east. At the very first light, turn left and then take a sudden right on New Haw Creek Road. Go about 1½ miles. On your right you'll see a baseball field. Turn right onto Bell Road, at the beginning of the ball field. Pass Evergreen Charter School on your left, then pass Ozark Springs Road on your right. Then you'll come to our big garden on your right. Slow down. On your left will be Zander Way. You'll turn right on the driveway opposite Zander Way at two big black mailboxes. As you come up our gravel driveway, the cabin will be on your left. You can park either in front of in back of the cabin. If you park in back, come in the back right door.