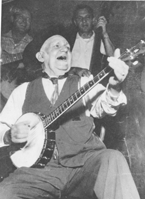 By Wayne Erbsen
I get asked this question now and then, so I thought a little discussion of this vital topic wouldn't hurt. Used to be, when trying to explain clawhammer
banjo, I'd refer to Grandpa Jones, once a star of the TV show Hee Haw. Now that Grandpa Jones has passed on to the barn dance in the sky and Hee Haw is long off the air, it's hard to think of a national star who plays in this style. But although clawhammer banjo pickers are not found on the front cover of Time or Rolling Stone (not YET, anyway), they can be found on front porches and at summer old-time music festivals, usually backing up an old-time fiddler.
So what is clawhammer and what distinguishes it from bluegrass banjo? Clawhammer is a rhythmic strumming style, whereas bluegrass is a picking style. In clawhammer, the melody is played by the index or middle finger striking down on one or several strings. Following that, the fingers of the right hand strike down on several strings in a three-part rhythm that sounds sort of like the word itself: claw-ham-mer, claw-ham-mer. In bluegrass picking, the fingers pick up on the strings and surround the melody with a swarm of notes called "rolls."
So where did clawhammer banjo come from? The first Americans to play clawhammer banjo (or any banjo style for that matter) were black slaves. They brought both the banjo itself and the way to play it from West Africa. Once in America, the banjo became the instrument most associated with African-Americans. It wasn't long before white musicians, such as Joel W. Sweeney, were copying the banjo-playing styles of African-Americans and teaching them to banjo players far and wide. During this period, clawhammer was often known as the "stroke" style, although it was also known as framming, frailing, banging, thrashing, and thumb-cocking the banjo.
In the 1840s, a style known as minstrel music developed in New York City, but soon spread all over the country. Performers such as Dan Emmett dressed in ill-fitting patchwork clothing and smeared their faces with burnt cork to emulate the speech, mannerisms, dances, and most importantly, the music of old plantation days. Minstrel shows not only featured banjo picking, but also dances, jokes, stump speeches, and skits and was the most popular form of entertainment in America until well past the turn of the 20th century.
Starting in the mid-1920s, on Saturday nights rural folks would hunker down around their old Philco radios to tune in to the most popular program of the day, the Grand Ole Opry. Everybody's favorite was Uncle Dave Macon, who was billed as "The Dixie Dewdrop." A natural-born entertainer, Uncle Dave not only played clawhammer banjo, but he played it in more ways than Carter's got Little Liver Pills! He picked it, he strummed it, he rapped it, and he even twirled it! Nowadays, most pickers content themselves with playing just one of two styles: clawhammer or bluegrass banjo. Pity.
You may be wondering why clawhammer is the poor stepchild of bluegrass banjo pickers, and remains in the shadows of its more famous cousin. There is one short word to explain that: Earl. For those familiar with bluegrass music, "Earl" is short for Earl Scruggs. Starting in the mid-1940s, Earl Scruggs re-energized the banjo with performances on the Grand Ole Opry as part of Bill
Monroe's band, The Blue Grass Boys. After hearing Earl, people from all across the country started to take their grandfather's old banjo out from under the bed and actually started to play them.
Earl's contribution was in refining and improving a style of three-finger banjo picking that had been played in the early 1920s by North Carolina banjo players such as Charlie Poole, Dock Walsh, and others. (See "The Banjo in North Carolina" by C.E. Heaton). Earl's dynamic performances of tunes such as Foggy Mountain Breakdown and Cripple Creek riveted his fans and started a new wave of interest in picking the banjo with three fingers.
In truth, there hasn't been a banjo player come along in over fifty years who has grabbed people's attention like Earl Scruggs did. Clawhammer banjo is a somewhat more laid-back style, so perhaps it hasn't drawn national attention like 3-finger or Scruggs style, as it is often called.
However, when banjo players get a taste of clawhammer banjo, they're are often hooked for life.
******
Wayne Erbsen has been teaching banjo, fiddle, guitar, and mandolin since dinosaurs roamed the earth (really, about 50 years). Originally from California, he now makes his home in Asheville, North Carolina. He has written 30 songbooks and instruction books for banjo, fiddle, guitar, and mandolin.