The Great American Tear Jerker by Wayne Erbsen
Fans of traditional country and bluegrass music have always had a soft spot in their hearts for a good ole tear jerker. If you write a song about getting run over by a train while holding a baby on the way to your mother's funeral, you're bound to have a hit. Let's take a little trip back in time and see where the idea of the tear jerker came from.
Mid 19th century America had a lot to cry about. If the high infant mortality rate didn't kill you, any number of other hazards would. Anyone who lived to be fifty, was thought to be a certified "old timer."
Then came the Civil War, which would claim the lives of nearly 40% of the young men of the Confederacy alone. To comfort soldiers on the battlefield and those that stayed behind, the publishing industry in both the North and South started producing and printing songs virtually around the clock. In 1863 alone, the North's biggest music publisher, Root & Cady, published 258,000 pieces of sheet music. If these sheets were laid end to end, the publisher claimed it would bridge the entire state of Illinois from Chicago to the Mississippi River.
Many of the most popular songs during the Civil War were songs like "Home! Home Sweet Home," which were clearly nostalgic. These songs reminded soldiers of peaceful, happier times before a war that pitted brother against brother, father against son.
Another popular Civil War era song was "Lorena," which spoke about a heartbroken lover. The song was so widely sung, especially by Southern soldiers, that some have actually blamed the Confederacy's loss on "Lorena." Apparently, so many soldiers got lonesome for their wives and sweethearts that they deserted and went home. Desertion was such a big problem, particularly for the Confederacy, that several Southern generals forbid their soldiers from singing "Lorena."
"The Faded Coat of Blue, or The Nameless Grave" is a classic example of a Civil War song which clearly laid the foundation for what became the tear jerker. Written by J.H. McNaughton near the war's end, the first verse will give you the flavor of this song, which was included in a book entitled Heart Songs (1909). In early country music this song was recorded by Owen Mills and Frank Welling, Buell Kazee and Maybelle Carter.
My brave lad he sleeps in his faded coat of blue,
In a lonely grave unknown lies the heart that beat so true.
He sank faint and hungry among the famished brave.
As they laid him sad and lonely within his nameless grave.
Among the most important early professional Civil War songsmiths was Henry Clay Work. His best known songs included "Kingdom Coming or Year of the Jubilo" (1862), "Marching Through Georgia" (1865), "The Ship That Never Returned" (1865), and "My Grandfather's Clock" (1876). But it was Work's song "Come Home Father" (1864) that really clinched the tear jerker as an important American genre. The song tells the sad story of a drunken father who won't come home to see his dying child despite the pleas of his grief stricken other son. To top it off, the dying child's last words are that he misses his dear father and wants to see him.
Most authorities point to Charles K. Harris' song, "After the Ball" (1892) as the most successful of the early tear jerkers, with total sales approaching five million copies. "After the Ball" has been called the "watershed song" helped launch the song publishing industry.
Close on the heels of Charles K. Harris was an unlikely champion of the tear jerker, a young black man named Gussie Lord Davis. For fans of bluegrass music, Davis' name should be more well known than it currently is.
Born on December 3, 1863 in Dayton, Ohio, Davis went to Cincinnati and applied to Nelson's Musical College. He was refused admission due to his race, but he managed to work as a janitor in exchange for musical instruction and fifteen dollars a month. In addition to his regular janitorial duties, Davis managed to sweep up enough musical education so that in 1880, at age 18, he composed the words and music to "We Sat Beneath the Maple on the Hill." The song went on become extremely successful and helped to make Davis one of the most important songwriters of the Tin Pan Alley era. The song was first recorded by Vernon Dalhart in 1926. In 1935 Wade Mainer and Zeke Morris recorded it with a different melody, and had a huge hit with it. Both Mainer and Morris told the author that the song was their first big money maker, and beat anything that Jimmie Rodgers ever wrote.
In addition to "We Sat Beneath the Maple on the Hill," Davis made important contributions to what became known many years later as "bluegrass music." Here are some of Davis' songs that went on to be performed and recorded by early country music and bluegrass artists.
The Fatal Wedding (1893). Recorded by Vernon Dalhart (1926), Ernest V. Stoneman (1927), Bradley Kincaid (1928).
In the Baggage Coach Ahead (1896). Recorded by Fiddlin' John Carson (1924), Vernon Dalhart -12 times!, Mac and Bob (1928).
Just Set a Light (aka "Red and Green Signal Lights" (1897). Recorded by Vernon Dalhard (9 times!),  Grayson and Whitter (1928), the Chuck Wagon Gang (1938), and Wayne Erbsen (1998).
Make Up and Be Lovers Again, aka "Jack and May," (1893). Recorded by Roy Harvey & Posey Rorer (1927), Fields Ward and Ernest Stoneman (1929), Darby and Tarlton (1930), Carter Family (1935), Dixon Brothers (1936), Monroe Brothers (1937).
He's Coming to Us Dead (1899). Grayson & Whitter (1927), Doc Watson, Ralph Stanley, Dry Branch Fire Squad.
One Little Word (1899). Recorded by Carter family (1937), Morris Brothers (1939).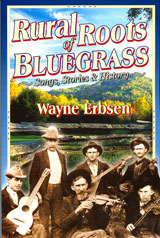 The lyrics, melody and history of "Maple on the Hill" can be found in Wayne Erbsen's book Rural Roots of Bluegrass.