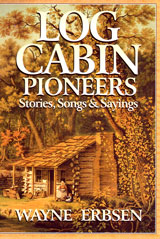 No other old English or Scottish ballad even comes close to the popularity of "Barbara Allen." Brought over to America by the earliest pioneers, its roots can be traced to at least the year 1666 when Samuel Pepys wrote in his diary on January 2, "In perfect pleasure I was to hear her [Mrs. Knipp, an actress] sing, and especially her little Scotch song of Barbary Allen." Even Abraham Lincoln sang "Barbara Allen" while growing up in rural Indiana.
In America, "Barbara Allen" was sometimes called "Barbara Allen's Cruelty or the Young Man s Tragedy." It was also known as "Barbara Ellen," and "Bonny Barbara Allan." In the beginning of the 19th century "Barbara Allen" was used both as a children's game and as an instrumental at dance parties. In the mid eighteenth century the tune of "Barbara Allen" was also used for several religious texts. During the Civil War, it provided the melody of a song called "Brother Green," which told the last words of a dying soldier.
By the end of the 19th century, ballads such as "Barbara Allen" were all but forgotten in the British Isles where they originated. Just when these ballads were on the edge of oblivion, in walked an English folksong collector named Cecil Sharp. As early as 1910, Sharp combed America's southern states from Georgia and North Carolina to Virginia, Tennessee and Kentucky. There he found a wealth of English ballads that had long been forgotten in his native land. He collected enough versions of "Barbara Allen" to fill sixteen pages of his book English Folk Songs of the Southern Appalachians.
When we think back to the roots of bluegrass music, it's important to remember that ballads like "Barbara Allen" were the bedrock that bluegrass music was built on. For certain, the ancestors of the first generation of bluegrass singers like Bill Monroe, Lester Flatt, Carter Stanley, Don Reno and Mac Wiseman were so familiar with ballads like "Barbara Allen" that they could sing all the verses from memory.
Even today, Barbara Allen has maintained its status as America's best- known ballad. In recent years, it has been recorded more than three hundred times. A short list of but a few of the artists who have recorded "Barbara Allen" might surprise you: Eddie Arnold, Joan Baez, Mac Wiseman, Hylo Brown, Doris Day, Judy Collins, Bob Dylan, Dave Dudley, The Everly Brothers, Tennessee Ernie Ford, Art Garfunkel, Crystal Gayle, Tex Ridder and Dolly Parton.
Barbara Allen
'Twas in the merry month of May
When all gay flowers were blooming
Sweet William on his deathbed lay
For the love of Barbara Allen.
He sent his servant to the town
He sent him to her dwelling
Saying; Master's sick and very sick,
And for your sake he's dying.
Slowly, slowly, she gets up
And to his bedside going
She drew the curtains to one side
And says: Young man, you're dying.
He reached out his pale, white hands
Intending for to touch her
She jumped, she skipped all over the room
And says: Young man, I won't have you.
He turned his pale face to the wall
And bursted out a-crying
Saying: Adieu to thee, adieu to all
Adieu to Barbara Allen.
She had not more than reached the town
She heard the death bells tolling
She looked to the east, she looked to the west
And saw his pale face coming.
Hand down, hand down that corpse of clay
And let me gaze upon him
The more she gazed, the more she grieved
And she bursted out a-crying.
Cursed, cursed, be my name
And cursed be my nature
For this man's life I might have saved
If I had done my duty.
O mother, O mother, go make my bed
And make it long and narrow
Sweet William died for me today
And I'll die for him tomorrow.
Sweet William died on Saturday night
Miss Barbara died on Sunday
The old lady died for the love of both
She died on Easter Monday.
Sweet William was carried to one churchyard
Miss Barbara to another
A briar grew out of one of their graves
A rose tree out of the other.
They grew as high as the old church top
They could not grow any higher
They bound and tied in a true love's knot
For all true lovers to admire.
NOTE: Portions of this article are from Wayne Erbsen's book, Log Cabin Pioneers, available from us at Native Ground Music.