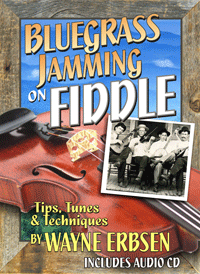 Sittin' on Top of the World
Was in the spring one sunny day,
My sweetheart left me, she's gone away.
Chorus:
And now she's gone and I don't worry,
Because I'm sittin' on top of the world.
She called me up from down in El Paso,
Said come back, daddy, Lord I need you so. (Chorus)
Ashes to ashes, and dust to dust,
Show me a woman a man can trust. (Chorus)
Mississippi River is deep and wide,
The woman I'm loving is on the other side. (Chorus)
If you don't like my peaches, don't you shake my tree,
Get out of my orchard, let my peaches be. (Chorus)
Don't you come here running, holding out your hand,
I'll get me a woman like you got your man. (Chorus)
Instruction on how to play this song can be found in Wayne Erbsen's books: Bluegrass Jamming on Fiddle, Bluegrass Jamming on Mandolin and Bluegrass Jamming on Banjo.