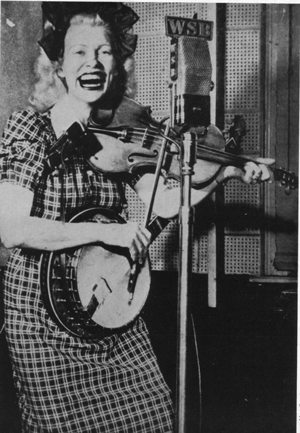 When one thinks of the banjo today what generally comes to mind is a picture of a man in an ensemble playing serious, often jazz-like music based on a style initiated by the most influential and widely imitated banjoist of all time, Earl Scruggs. This style is barely 50 years old and has involved a long evolution since the gourd instrument that came here from Africa in the 17th and 18th centuries. That instrument was handmade from whatever organic materials would be available. The sound was quiet often solo but soon after Africans were brought here as slaves they no doubt began producing music differently and in different combinations than they had in their homeland.
We know very little about the music of this era since few writers thought that vernacular or everyday music was worth writing about. It was only after Anglo-American people began playing the instrument in the early 1800s that some writers began taking note. What we do have are a few travelers' accounts and artists' drawings and paintings from around 1800. And they show only AfroAmerican men (no women) solo or in ensembles, with the banjo. Similarly, until the late 1800s, drawings, photos, and written accounts all suggest that only Euro-American men played the banjo. Around the turn of the century, however, one begins to see photographs ofwomen, either holding the instrument in a dreamy pose in a formal drawing room setting, or, perhaps a little later, with a formally arranged string orchestra.
I have often wondered whether Afro-American women picked the banjo. I fed that when Elizabeth Cotton played the banjo around 1900 she was probably not the first to do so. And I have talked with many Anglo-American old-timers in the mountains who tell me that their fathers and mothers picked the banjo before the turn of the century. Why, then, do we not have accounts of this either visually or in literature? I believe this is primarily because it was not considered dignified for a woman to be seen with a banjo, which was then considered a rollicking party and dance instrument. And when the banjo became more dignified and classicalized in the late 1800s, we begin to see evidence of what had been going on to some extent all along. I have known a number of women who picked the banjo in the early 1900s-Elizabeth Cotten, Hattie Stoneman and Sara Boggs (Dock's wife) to name but a few. Their styles varied from the quiet to the lively and raucous. Often their picking was solo or as accompaniment to an old-time song.
As mountain string bands developed in the early 1900s they consisted mostly of men, in public at least. Again, I suspect this was because it was "'frolic'" or party music and it could get pretty rowdy. The banjo at this time was giving way to the guitar as support to the fiddle, and was less suited than the guitar to the new hillbilly songs. But in the 1930s the banjo sometimes took on a new role within performing string bands in a style based on the old Kentucky rapping or frailing stroke. This type of banjo lead communicated unmistakable excitement with its strong, driving melodic breaks, using a guitar and string bass for rhythmic support. As far as I can tell from early recordings and recent interviews, this style was initiated and played by women, all of them from Kentucky. Some of the groups consisted solely of women and many of the best known players were encouraged and managed by promoter John Lair.
Certainly Cousin Emmy was the first and probably the most influential of these banjo-picking country entertainers to establish herself. Born and raised in western Kentucky just after the turn of the century, she came from a family of musicians. She was without a doubt the most energetic old-time music performer I have ever seen. She often led a large troupe of musicians and dancers in the rough and tumble thirties, sang in a clear . limber voice, and played more than a dozen instruments. Her image was one of a brash banjo picking woman. Her rapping style was fast and smooth and she could also play the picking, or chord style on slower songs. She was a spirited musician, tall, blonde, and charismatic. She played a variety of songs on the banjo, from "'Old Timbrook'" ("'Molly and Tenbrooks'"-no doubt learned from her family) to pieces of English ballads such as "'Scat Tom Kitty Puss," or turn-of-the century sentimental songs such as "little Joe." She played a variety of radio stations and shows throughout the South and Mid-west in the 1930s and 1940s. As a result, the range of her impact on other banjo pickers was, I believe, considerable. For instance, while she was in Wheeling West Virginia, one ofher banjo students was the now legendary Grandpa Jones. Her Decca 78s of the mid-forties introduced her to an urban audience as well.
In the 1950s she appeared in a number of second or third-rate Hollywood films, but unfortunately she recorded very little. Her Decca album has never been re-issued.  Her Folkways album with the New Lost City Ramblers (FTS 31015) is still in print and is an example of her banjo picking in the late 1960s. I have a number oft apes made of her in the '50s, '60s, and early '70s which I expect to edit into a couple of LPs.
The next generation younger, Lily May Ledford was also from Kentucky, and at least as well known and nearly as influential as Cousin Emmy. Her touch was stronger and more percussive than Cousin Emmy's and to me the excitement and drive of her playing could parallel that of Earl Scruggs's early recordings. She was the instrumental mainstay of the Coon Creek Girls, an all-woman string band organized by John Lair in the 1930s. John Lair had also been a formative influence with Cousin Emmy (and would soon be with the Amburgey Sisters as well). The Coon Creek Girls played mostly at Lair's Renfro Valley Barn Dance and recorded a few nice
78s in the 1930s. Lily May also played fiddle and guitar, and sang. Her stage presence was energetic and in later years, reflective and regal. She was a big influence on me and on my brother, Pete. Some of my earliest remembrances of banjo picking were some handcut radio transcriptions of the Coon Creek Girls playing "'Cindy" and "How Many Biscuits Can You Eat" for the King and Queen of England at the White House in 1939. Those recordings and some of the best 78s by the Coon Creek Girls are on Old Homestead 142. It's an excellent LP and a good representation of them at their best. They recorded again in the 1960s (County 712) and Lily May recorded a solo LP in the 1980s (Greenhays 712).
After these two pioneer Kentucky banjo picking women there were several others from a still younger generation. Molly O'Day's banjo-picking style was in a sense a mixture of Cousin Emmy's smooth sound and Lily May's percussive, punchy rhythm. She leaned more towards the country music of the 1940s so her banjo picking was a smaller part of her repertoire than songs that used Hawaiian guitar. Like Cousin Emmy she was a beautiful singer and had old songs such as "'Barbara Allen'" in her repertoire. Some of her best gospel songs recorded in the 1940s have been re-issued on Old Homestead 101, including four examples of her banjo picking at its best. Two LPs of more recently recorded gospel songs, some with banjo, are on Old Homestead 312 and 313. My favorite of hers, "'Poor Ellen Smith,'" is not to my knowledge re-issued. She appears on two other Old Homestead LPs playing old-time banjo rhythm behind brother Skeets Williamson's fiddling on one. On the other, mostly a nice selection of reissues of her best 1940s recordings, there is only one Molly O'Day song using a picked, not rapped 5-string banjo, probably played by her husband Lynn.
There were several other banjo-picking women that were active in the 1940s and '50s. Jean Chapel (Mattie O'Neal), one of the Amburgey (Amber) sisters was from Neon, Kentucky, plays music, mostly as a rock and roll entertainer. She has written a number of country hit songs. She recorded my favorite of her songs about 1952, "'You Can't Live With 'Em (And You Can't Live Without 'Em)'" with her sisters, Martha Carson and Bertha Woodruff. She played a driving c1awhammer-style banjo and sang lead on the song. It's been re-issued on Library of Congress issue LBC 7.
Another good player about whom I have been unable to learn anything was Katy Hill (Helen Osborne). She played faster and with a harder sound than any of the players I've written about here – she had that driving Kentucky sound. She played briefly with Charlie Monroe in the 1940s and appears on two LPs of his radio shows, County 538 and 539. As with all of these banjo-picking women it is a pity that she didn't record more.
No discussion of banjo-picking women can be complete without Olabelle Reed. Her North Carolina banjo-picking style is different from the players I have mentioned above, who were all from Kentucky. Her style is less driving and is a hybrid of c1awhammer and western North Carolina "'up-and-down'" picking. She was influenced by players in her native North Carolina but also, I'm sure, by the recordings of the women mentioned above. In the 1960s she began to concentrate on her songwriting and is best known for songs such as "High on the Mountain," and "Only the Leading Role Will Do," She can be heard on Rounder 0021 and 0077.
Sometimes when I see Dolly Parton picking the banjo I think that some part of this older banjo tradition is continuing. But among most modern players their mountain music identity becomes diluted as they reach for ever larger audiences. And it was the commitment to country identity that was one of the strongest elements in the music of the older banjo picking entertainers. An exception to this is the playing and stage presence of Roni Stoneman; her drive and sense of humor remind me of Cousin Emmy. But both Parton and Stoneman play in Earl Scruggs' style. It is the style of banjo picking that I am talking of here, a fast, basic percussive use of the old rapping (frailing) style to lead a string band that was evolved and played by Kentucky banjo-picking women. Elements of that style continue in the playing of yet another generation of younger, banjo picking women, many of them from the North, who have been inspired by the older generation of players -such banjo pickers as Peggy Seeger, Gloria Flickinger, Rhoda Kemp, Mable Damron, Alice Gerrard-and then the next younger generation who often base their playing on the more intricate clawhammer playing of Fred Cockerham, Kyle Creed, and their followers.
Women have always played and sung old-time rural, or country music in homes throughout the United States. However the practice of doing so in public either commercially or for fun, was the exception due to the dictates of social and musical traditions, the demands of child rearing, and the trials of a fickle, rough and tumble country music business. But through it all, there were these outstanding women who took a traditional banjo picking style and adapted it to make exciting music and entertain us all.
Note: Like other banjo pickers in early country-music performance, these Kentucky women used the most up to date tone-ring-and-resonator type banjos and very occasionally they used a pick on either first or middle finger.
***********************************
This article originally appeared in the Old-Time Herald, Spring 1990. Used by permission of the Old-Time Herald and Alexia Smith.