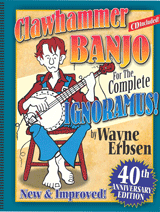 Little Birdie
Little birdie, little birdie
Come and sing to me your song.
I've a short time for to be here
And a long time to be gone.
I'd rather be in some dark holler
Where the sun don't ever shine
Than to see you with another
And to know that you'd never be mine.
Married woman, married woman
Why don't you settle down
You are like a little birdie
A-flyin' all around.
I don't want your greenback dollar
I don't want your watch and chain
All I want is your heart darlin'
Won't you take me back.
Little birdie, little birdie
Why do you fly so high
'Cuz I mourn for my true lover
Way up in the sky.
Instruction on how to play this song can be found in Wayne Erbsen's books: Clawhammer Banjo for the Complete Ignoramus.