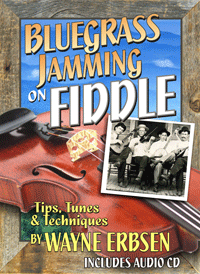 I've Just Seen the Rock of Ages
by John Preston
I was standing by the bedside,
Where my feeble mother lay.
When she called me close beside her,
And I thought I heard her say.
Chorus:
I've just seen the rock of ages,
Jacob's ladder hanging down.
I've just crossed the river of Jordan,
Now, my son, I'm homeward bound.
As we gathered all around her,
The tears begin to fill our eyes.
Then she called me close beside her,
Whispered softly her good-bye. (Chorus)
Pine breeze blowing 'cross the mountain,
Where forever she will lay.
There she'll rest beside the fountain,
There she'll sleep beneath the clay. (Chorus)
Instruction on how to play this song can be found in Wayne Erbsen's books:  Bluegrass Jamming on Fiddle, Bluegrass Jamming on Mandolin and Bluegrass Jamming on Banjo.