How Hard is it to Learn to Play the 5-String Banjo?
I get asked this question all the time, so I thought I'd might as well answer it. Learning the banjo is VERY EASY, if it's taught right.
Right? Yes, that's right.
Let me talk about learning bluegrass banjo. This style of banjo playing that was pioneered by Earl Scruggs has a million notes. It not only sounds complicated, it IS complicated. But it doesn't have to be that way. Unfortunately, in my opinion, most banjo books and teachers completely miss the boat. They start the total beginner at way too high of a level. They show the beginner several complicated rolls, and then expect them to use those rolls to somehow play the melody. No wonder so many of them find it difficult.
I have a different, and much, much simpler approach. Instead of starting with complex rolls, I start with simple melodies. After the student can play just the basic tune of a few well-known songs, I then introduce one very simple roll, which I call the thumb-pinch. That means you play a melody note with your thumb followed by plucking the 1st and 5th string together at the same time. That's it!
With this simple approach, I've had many thousands of beginning students become very proficient on the banjo. They were shocked how easy it is.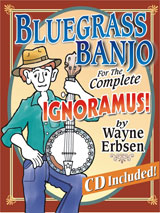 My simple approach is found in my book, Bluegrass Banjo for the Complete Ignoramus! This friendly and funny book makes it all so easy, that you can't believe how quickly you'll be playing bluegrass tunes on the banjo.
Here's my guarantee. If you purchase Bluegrass Banjo for the Complete Ignoramus and don't like it, or don't get anything out of it, just send it back, and I'll refund what you paid for it. Fair enough?