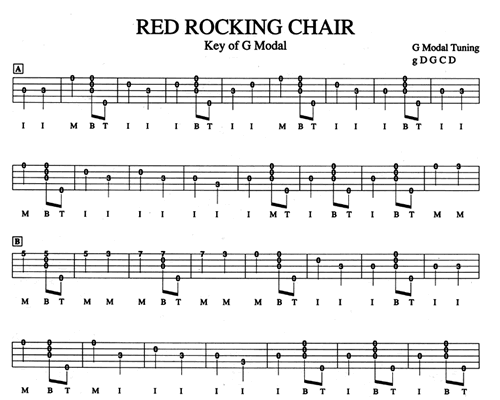 By Wayne Erbsen
Here are the basic steps to learning old-time clawhammer banjo:
1. With your right hand over the strings of your banjo, curl your fingers up as if they were holding a baseball bat.
2. Strike down on the 1st string with the nail of your middle finger. (This is your melody note). With your hand still in motion, let your right thumb come to rest on the 5th string.
3. Then lift up you right hand and quickly brush down on the 1st, 2nd, and 3rd strings with the nails of your middle and ring fingers. Again, your thumb will come to rest on the 5th string, as it did above.
4. Finally, your thumb will strike the fifth string.
You're trying to get a rhythm that sounds like "claw ham – mer." If you're tapping your foot, it will be "down, down-up, down, down-up."
Tips: Keep your right hand fairly stiff. The first note of the clawhammer is your melody note. It could be on the 1st, 2nd, 3rd, or 4th strings. I suggest using you middle finger of your right hand for the 1st string, and your right index finger for the 2nd, 3rd, or 4th strings.
Tunings: Old-time clawhammer banjo often uses different tunings to play the tunes. One of my favorite is G Modal tuning which is sometimes called "sawmill" tuning. Here's how to do it:
1. Start in G tuning: gDGBD.
2. Tune the 2nd string up from a B to a C by fretting the 2nd string at the 2nd fret and tuning it up until it matches the 1st string played open.
Red Rocking Chair is an old southern mountain tune that is also known as Rain and Snow. In western North Carolina, it was one of the favorite tunes of banjoist Obrey Ramsey.
******
Wayne Erbsen has been teaching banjo, fiddle, guitar, and mandolin since dinosaurs roamed the earth (really, about 50 years). Originally from California, he now makes his home in Asheville, North Carolina. He has written 30 songbooks and instruction books for banjo, fiddle, guitar, and mandolin.