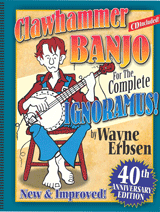 East Virginia
I was born in East Virginia
North Carolina I did go
There I met a fair pretty maiden
And her name I did not know.
Oh her hair was dark and curly
And her lips were ruby red
On her breast she wore white lilies
Where I longed to lay my head.
I don't want your greenback dollar
I don't want your watch and chain
All I want is your heart darling,
Say you'll take me back again.
The ocean's deep and I can't wade it,
And I have no wings to fly
I'll just get me a blue-eyed boatman
For to row me over the tide.
I'll go back to East Virginia,
North Carolina ain't my home
I'll go back to East Virginia,
Leave those North Carolinans alone.
Instruction on how to play this song can be found in Wayne Erbsen's books: Clawhammer Banjo for the Complete Ignoramus.