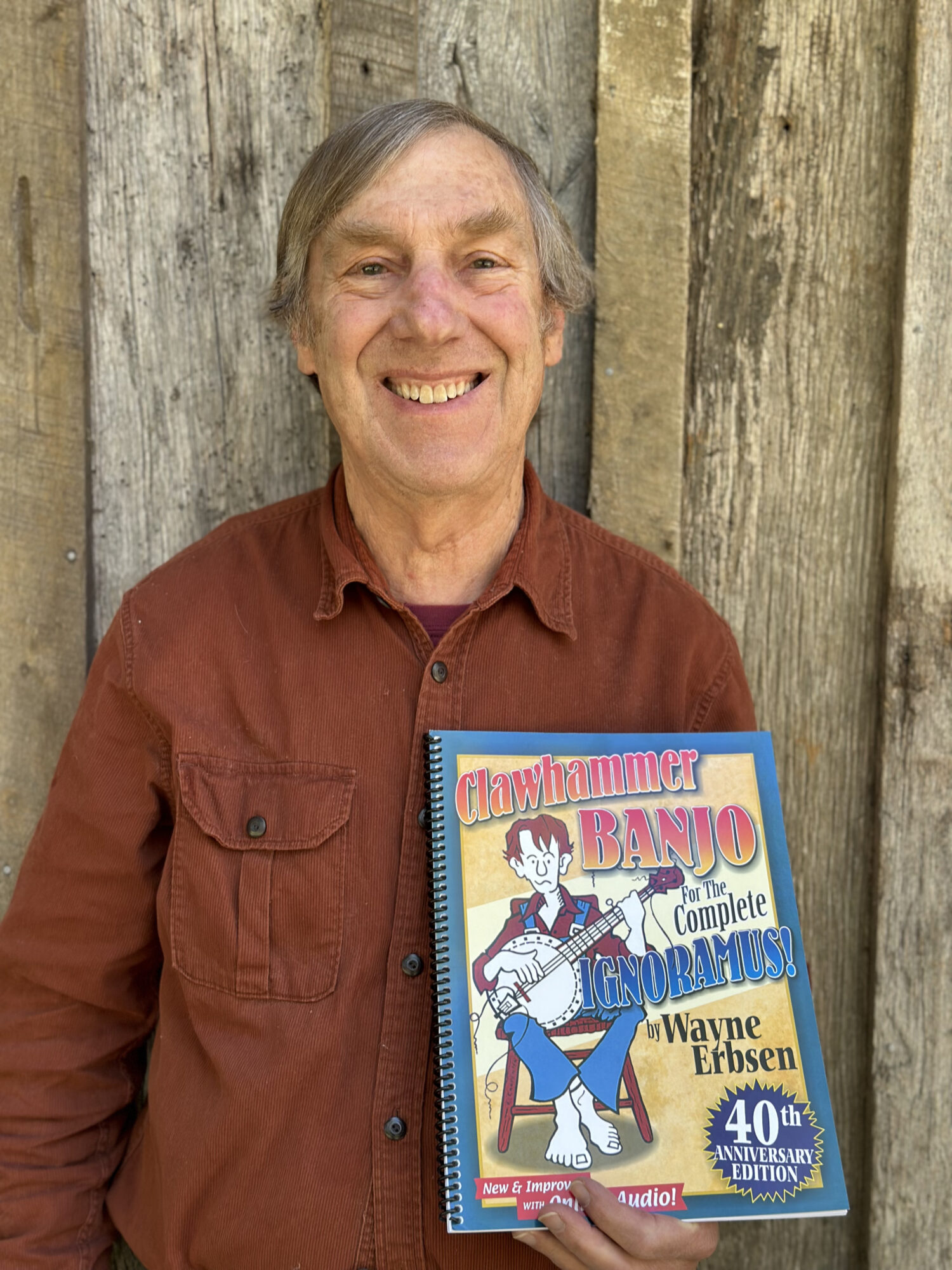 Many of you have learned to play the banjo from my book 'Clawhammer Banjo for the Complete Ignoramus'… and this year this method is 50 years old! The book has been rewritten a few times over the years, and each time I think it's gotten even better, but it's always had the same down home and easy approach.
I thought you might like to know the story of how the 'Ignoramus', as we like to call it, came to be.
It was 1973 when I landed a job in Charlotte, NC teaching at Central Piedmont Community College. I approached them with the idea of teaching banjo, fiddle, guitar, mandolin and country music history, and was hired on the spot. Classes started three days later. As it turned out, the movie "Deliverance" had just come out, and fifty people showed up for my community banjo classes. To accommodate that many students I cranked up the ole mimeograph machine at the college and produced reams of lessons to give out to my students. When students started asking for the sheets from two weeks before, I was suddenly overwhelmed with trying to keep up with what songs I taught that week. The solution was to put all the lessons in a book, which I would have printed and then sell to my students.
I hastily gave the book the name of "A Manual on How to Play the 5-String banjo for the Complete Ignoramus!" and typed it up on a manual typewriter. I marched down to the closest print shop and ordered 50 copies, the number of students in my class. The printer informed me that if I printed 100 copies, the price per book would drop significantly, so I ordered 100.
After I sold fifty copies to my students, I wondered how I was going to get rid of the rest of the books, so I approached a local music shop. They were impressed and ordered a dozen books and asked for an invoice. I didn't even know what an invoice was, so he sent me to a stationary store to buy an invoice book. When went into the store I stuck a copy of the book under my arm. As the salesmen was showing me invoice books, he asked about the book I had under my arm. Impressed, he bought one on the spot. It was then that the light bulb went off in my head. If I could sell a banjo book in a stationary store, where couldn't I sell one? With that, I approached every music store for miles around, and nearly sold out all my books. From there, I printed more books and have been printing them ever since.
Thanks for sticking with us the past 50 years!

PS: If you've already learned all the songs in the original 'Ignoramus', you might like 'Clawhammer Banjo: Tunes, Tips & Jamming', or you can check out the rest of my music instruction books for guitar, banjo, mandolin, fiddle and ukulele.