"Drifting Too Far From the Shore" by Charles E. Moody
Charles E. Moody was not your average gospel songwriter. He alone wrote both the words and the melody of two of the bedrock classics of country and bluegrass gospel, "Kneel at the Cross" and "Drifting Too Far From the Shore." To get a handle on this man and the songs he wrote, let's go back to Moody's beginnings in rural Georgia.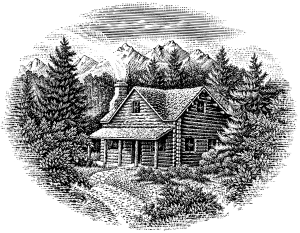 One of eight children, Moody was born in a log cabin on October 8,1891, near Tifton, Georgia. In this rural farming community, music was a favorite pastime, and as a young man Moody learned to play the harmonica and banjo. Later he acquired a fiddle, which he had traded for a shotgun.
Determined to learn to read music, Moody pored over a book of the rudiments of music published by the A. J. Showalter Company of Dalton, Georgia. In 1916, he attended his first singing school in Ebenezer, Georgia, taught by A. J. Simms. There he began learning to sing harmony. Later that year, Moody traveled by train to Asheville, North Carolina, where he learned to sing shaped notes at the Southern Development Normal Music School that had been founded by F.L. Eiland.
Back in Georgia, Moody thoroughly immersed himself in music, singing in quartets, performing at revivals and directing the choirs at churches in the area near his north Georgia home. One day on his way home, he attended a church service led by the Reverend Sam Hair. At the end of his sermon, Reverend Hair asked his congregation to "kneel at the cross." This phrase so struck Moody that the following day he composed the words and music to the now famous gospel song. He soon sent it to George Sebren of The Sebren Music Co, who published it in 1924.
Unlike most other gospel songwriters, Charles E. Moody also performed and recorded secular music. He joined forces with Bill Chitwood, George Oscar "Bud" Landress, Phil Reeve, and Clyde Evans, and the band was soon calling themselves The Georgia Yellow Hammers. Besides singing in the band, Moody played guitar, banjo and ukulele. He contributed one of his compositions, "Song of the Doodle Bug," which they recorded February 21, 1928.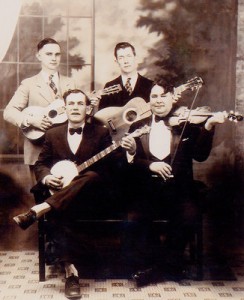 The list of artists who have recorded "Drifting Too Far From the Shore" reads like a Who's Who of bluegrass and early country gospel. Curiously, Charles W. Moody himself never got the chance to record it. First to commit the song to a record were the Carolina Gospel Singers on September 27, 1929, in Richmond, Indiana, for the Gennett label. Those who followed suit includes The Monroe Brothers, Porter Wagner, Hank Williams, Carl Story, Jerry Garcia, Boone Creek, Pure Prairie League, Old & In the Way, Tennessee Ernie Ford, Bill Monroe, Rose Maddox, the Country Gentlemen, Roy Acuff, Red Smiley, Don Stover, The Stanley Brothers and Emmylou Harris, as well as Helen, June and Anita Carter.

You can hear a nice 1930's version of this song by the Monroe Brothers HERE.

Drifting Too Far From the Shore

Out on the perilous deep, Where dangers silently creep, And storms so violently sweep, You are drifting too far from the shore. (Chorus)      Drifting too far from the shore,    You are drifting too far from the shore (peaceful shore),    Come to Jesus today, let him show you the way,    You are drifting too far from the shore.   Today the tempest rolls high, And the clouds overshadow the sky, Sure death is hovering nigh, You are drifting too far from the shore. (Chorus)   Why meet a terrible fate, Mercies abundantly wait, Turn back before it's too late, You are drifting too far from the shore. (Chorus)