One Finger Easy Chords for Banjo © 2013 by Wayne Erbsen
People are always searching the Internet for the easiest way to play the banjo. Who can blame them? Aren't we all looking for the easiest way to do things? Many of them end up on my Native Ground Music web site, and find the article entitled "Banjo Chords." This article demonstrates that with two and three finger chords, the beginner can play thousands of bluegrass, folk, and gospel songs.
Right now I'm going to make things even easier! Many thousands of songs can be played using just one finger chords. Yes that's right. One finger.
For bluegrass music, banjos are generally tuned in what's called G tuning. That means the open strings make a G chord. The notes for G tuning, starting with the 5th string. are gDGBD. So you can play a G chord with NO FINGERS!
For most bluegrass or folk songs, only three chords are needed: G, C and D.
A one finger C chord can be played by fretting the 2nd string at the 1st fret, which is a C note. Although this is not a "complete" C chord, it certainly works for most songs, so if you're looking for an ultra easy way to play a C chord, this is IT!
An easy one finger way to play a D chord is to fret the 3rd string at the 2nd fret. You would then lead with that note when the song goes to a D chord. Again, this is not a complete D chord, but it certainly works when you have a D chord emergency.
So there's the three chords that you'll need to play thousands of songs: G, C and D.
Important Note: In bluegrass music, the strings are not generally strummed. Instead, individual strings are picked. If you're wanting to simply strum all the strings, only the open G chord can be strummed. The simplified one finger C and D chords will only sound right when they're picked, not strummed.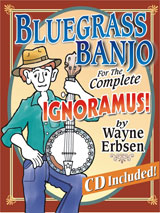 To learn simple ways to pick the banjo, I can honestly recommend my book Bluegrass Banjo for the Complete Ignoramus. This book has taught tens of thousands of total beginners just like you to play the banjo. I promised that it's unique approach will head you down the right path toward happy banjo pickin'. You have my word on it.
Wayne Erbsen